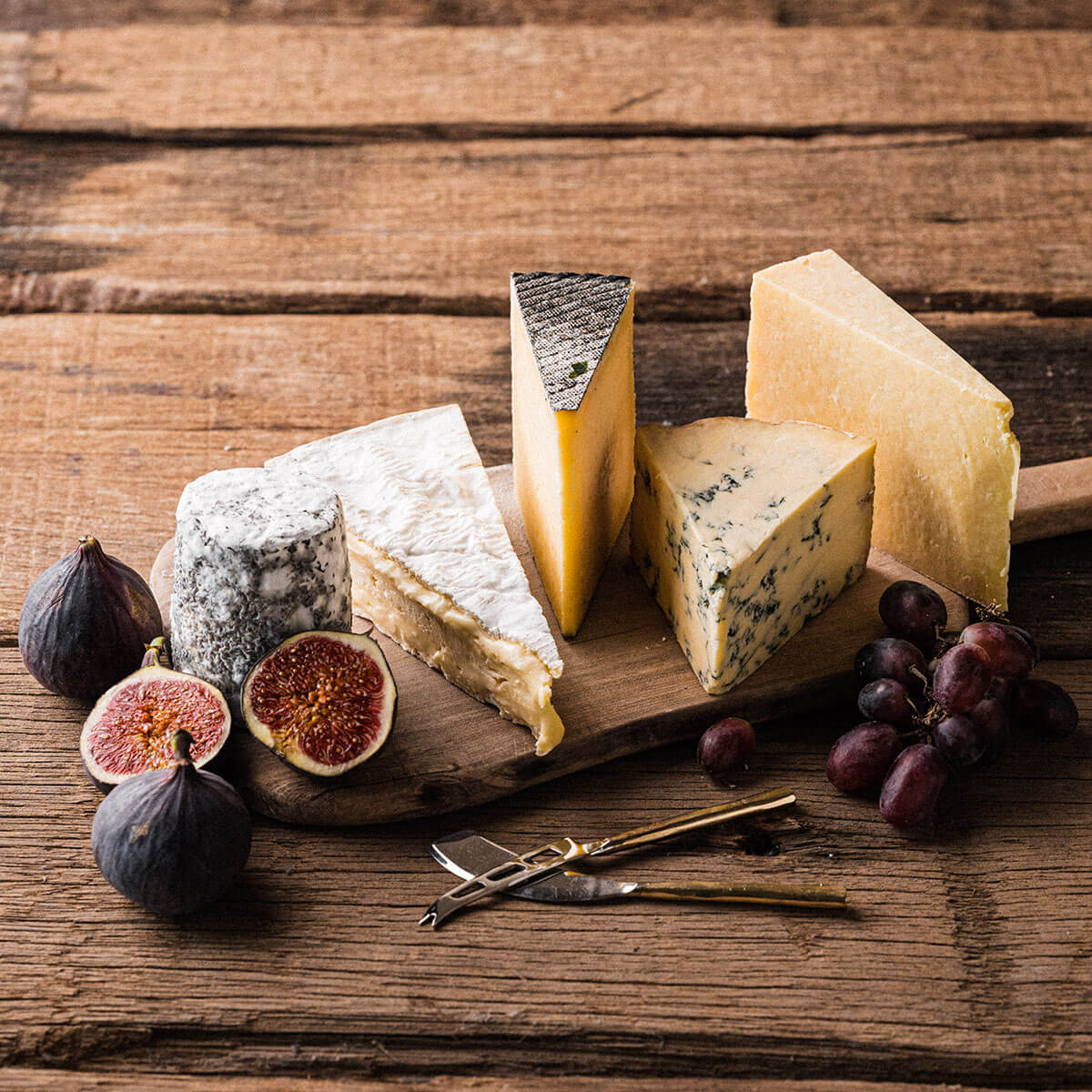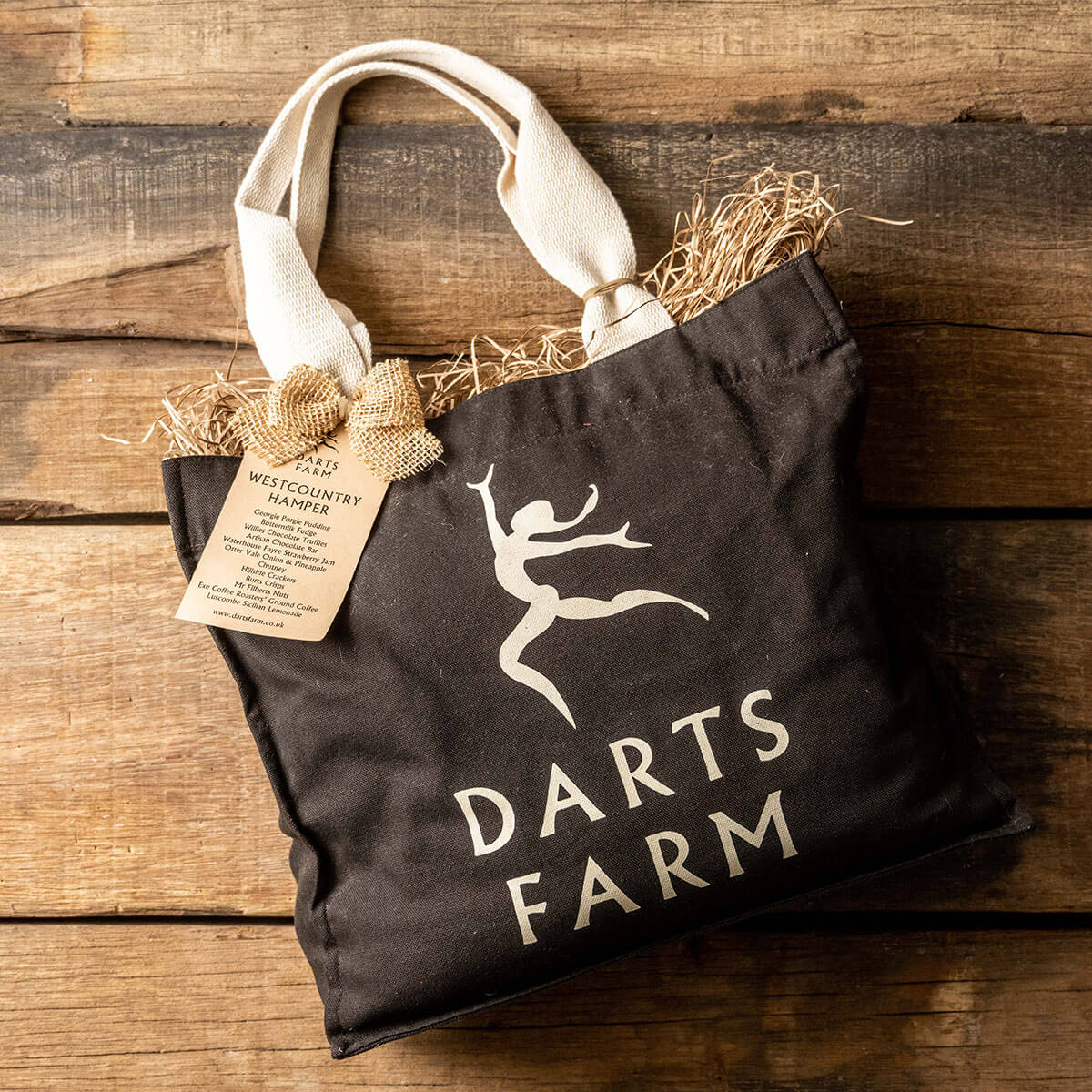 The Ultimate Christmas Cheeseboard Hamper
£55.00 each
This selection of world-class selection of British farmhouse cheese has been selected by our cheesemongers to help you create the best tasting cheeseboard for the festive period! It makes a wonderful gift for a cheese lover as well as an amazing treat for the family this Christmas.
Cheese box approx. weight 1kg
Hamper options: Please select from a beautiful wicker basket, cloth bag or branded card box in the drop down.
Read full product details
Your Cheeseboard will include:
Billy Kevan is just the fourth cheesemaker since 1913 to make Stilton in the village of Colston Bassett, Nottinghamshire. Over this time, little has changed. Every day, milk from a small cooperative of dairy farmers within 1.5 miles of the creamery is traditionally hand ladled to create the most intense rich and creamy cheese with a velvety texture and well-balanced flavour. We source this cheese from Neal's Yard Dairy, for whom Billy makes an exclusive ancient recipe. This particular cheese is made with an animal rennet, which naturally coagulates the milk and has a resounding effect on its texture. It is also pierced later and less, allowing the flavour of the milk to overcome the intricate blue veining. If you haven't had Colston Bassett, you haven't had Stilton. Pasteurised Cow's Milk & Natural Rennet
Something truly special. Johnny Crickmore and his team at Fen Farm Dairy make the only traditional raw milk Brie-de-Meaux style cheese in the UK. In fact, there are only a handful of its type in the world, where the cheese is made on the farm by the farmer – even the French are jealous! The cheese is made by hand in small batches, very early in the morning so that they can use the raw milk still warm, straight from the cow at the perfect temperature for cheesemaking. The mould cultures are added to the warm morning's milk and it is gently gravity fed into small vats just a few metres from the milking parlour, where the rennet is added. The curds are carefully hand-ladled into large moulds, using traditional pelle-a-brie ladles and the young cheeses are hand salted and then aged for up to 8 weeks in a cave-like environment. Baron Bigod is truly unique to Johnny's farm. Its flavours, aromas and characteristics are influenced by the Montbeliarde cow's milk and the rich variety of grasses and herbs that grow on the grazing land of Stow Fen. Raw Cow's Milk & Natural Rennet
As the last remaining producer of traditional Lancashire in Britain - Graham Kirkham is the third generation to make cheese from his family's small herd of Frisian cows in Goosnargh. Using raw milk, they practice a traditional two-day curd method which originates from a time when farmers couldn't produce enough milk to fill a cheese mould in one day. The cheese is then wrapped in muslin cloth and traditionally buttered. We source this cheese from Neal's Yard Dairy, who visit Graham regularly to carefully select each 6-week-old cheese. Neal's Yard then mature the cheese for 10 months in their Borough Market shop. Raw Cow's Milk & Natural Rennet
From their small rural dairy in near Truro, Cornwall, Catherine Mead and the team at Lynher Dairies handcraft their incredible Kern using the rich and creamy milk from their own herd of Ayrshires; bringing seasonal flavour at different times of the year. It is gently heated at low-pasteurisation temperature and Alpine cultures—savoury, buttery, grassy nutty—are added to develop its character and burnt caramelised notes are created through scalding of the curds. Once the moulds are in presses, pressure is gradually increased to force out the whey and fifty hours in a briny bath adds the salty taste. The cheese is then painted in a breathable black wax coating and left to mature for 16 - 18 months. The result is an amazing hard farmhouse cheese with a rich buttery taste and caramel notes - it is no wonder that Kern was crowned Supreme Champion at the World Cheese Awards 2017. Pasteurised Cow's Milk & Vegetarian Coagulant
Charlie Westhead is one of Britain's pioneering cheesemakers, leading the way in the renaissance of farmhouse production. After working for Neal's Yard Dairy in the 1980's, Charlie evolved from cheesemonger to cheesemaker. This particular cheese, Dorstone, is named after the picturesque village that overlooks the River Wye in Hereford. It is made with pasteurised goat's milk and takes the shape of a turret. Charlie tastes and selects each batch that ends up in our cheese counter, after being carefully matured by Neal's Yard Dairy in Bermondsey. Pasteurised Goat's Milk & Natural Rennet
caring for and storing your cheese
Your cheese has been cut & wrapped to order
Keep wrapped in wax paper
Refrigerate on receipt
Best within 14 days
delivery
Nationwide delivery:
Wednesday & Friday £7.95 UK Standard Delivery Charge (per order)
Excluding some post codes; Delivery | Darts Farm
Gift messages may be added at check-out
Collection from Darts Farm is free - choose Collection at checkout.
sustainable packaging
A

ll of our hampers are packed carefully with all products laid flat and covered in shredded paper. This is to ensure that they are equipped for transportation and arrive with you safely.
Woolcool liners
Non-toxic re-usable gel packs
Darts Farm branded recyclable cardboard box, made in the UK
More information here: Sustainably Driven Hampers! | Darts Farm