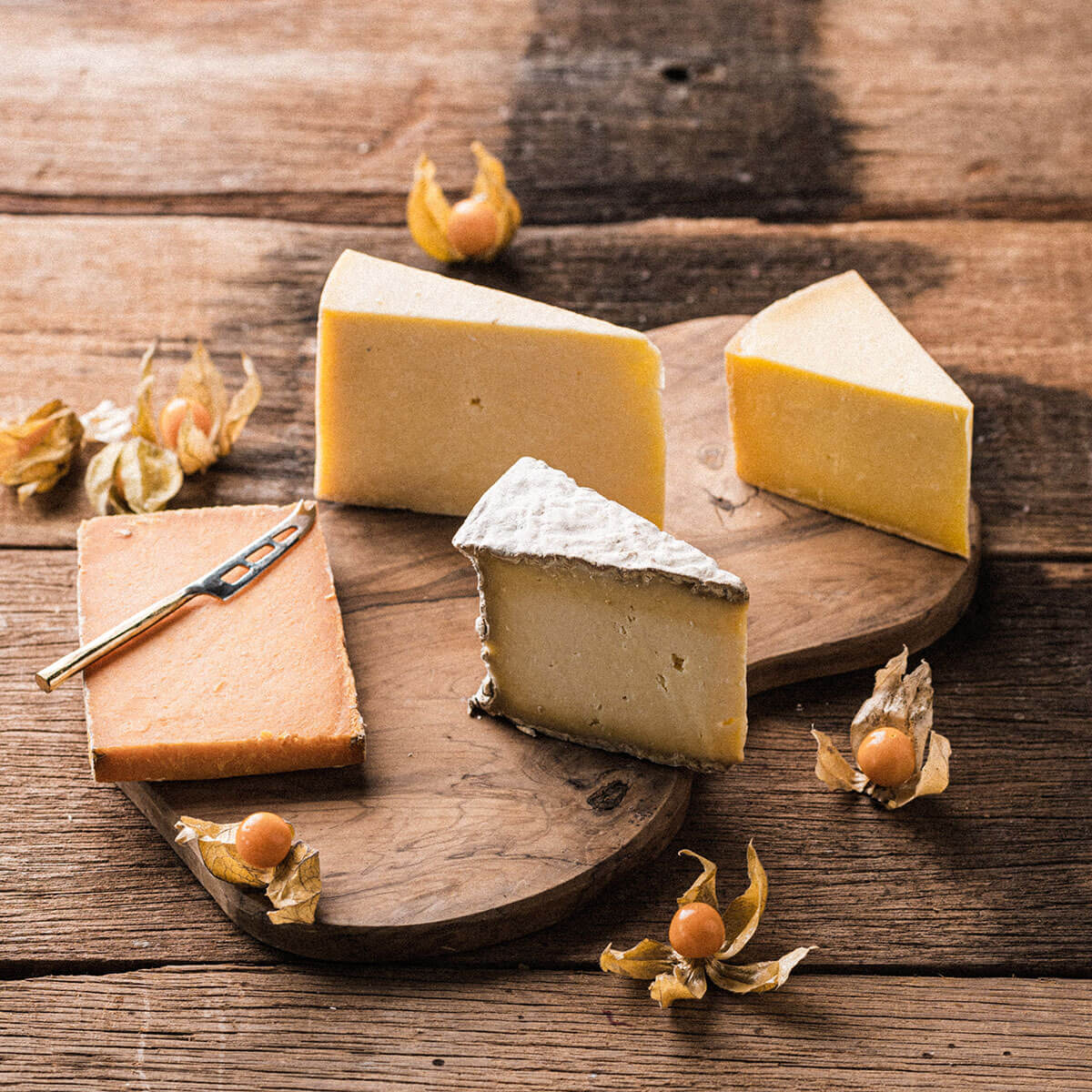 Eat British Cheese Hamper
£39.00 each
We've put together a selection of cheeses that we're particularly excited about at the moment. These cheeses are widely representative of British cheesemaking heritage – taking you on a tasting journey.
Your cheese tasting experience includes; 
Kirkham's Lancashire 
Gorwydd Caerphilly 
Sparkenhoe Red Leicester 
Roll Right 
Read full product information
Kirkham's Lancashire (Minimum 200G)
As the last remaining producer of traditional Lancashire in Britain - Graham Kirkham is the third generation to make cheese from his family's small herd of Frisian cows in Goosnargh. Using raw milk, they practice a traditional two-day curd method which originates from a time when farmers couldn't produce enough milk to fill a cheese mould in one day. The cheese is then wrapped in muslin cloth and traditionally buttered. We source this cheese from Neal's Yard Dairy, who visit Graham regularly to carefully select each 6-week-old cheese. Neal's Yard then mature the cheese for 10 months in their Borough Market shop.
Gorwydd Caerphilly (Minimum 200G)
Caerphilly cheese is a mould-ripened, aged cow's milk cheese typically sold at three to four months. The style takes its name from a small town in the South of Wales. Former Neal's Yard Dairy cheesemonger Todd Trethowan built a cheesemaking facility on his parents' land and began to make cheese with locally sourced milk. He was later joined in the business by his brother Maugan and sister-in-law Kim. With the intention of improving the quality of their cheese, and after a lengthy search for 'the best possible milk', in mid-2014 the Trethowans moved to Somerset. Partnering with a farm whose milk supply showed great potential enabled them to have more control over the raw material and as a consequence, on the final cheese.
Sparkenhoe Red Leicester (Minimum 200G)
After 50 years of extinction, David and Jo Clarke set out to restore one of the jewels in the crown of British cheesemaking heritage. The couple use raw milk from their herd of pedigree cattle in Nuneaton, Warwickshire to craft this long, deep flavoured cheese. It is traditionally coloured with Annatto seed, a historical way of distinguishing between territorial cheeses introduced by explorers returning from the central Americas in 1700s. Our friends at Neal's Yard Dairy visit David and Jo each month to select the cheeses with nutty, rich and long-lasting flavours. The cheeses are then turned and brushed once a week for 12 months before finding their way into this box.
Roll Right (Minimum 200G)
Inspired by the famous soft Alpine cheeses such as Vacherin and Reblochon, David Jowett makes this spruce bound oozing cow's milk cheese on his farm in Gloucester. His herd of traditional dairy cows, including breeds such as shorthorns, graze pastures laced with clover and herbal leys nestled among a dozen native grass species. It is this along with the spruce that gives the cheese bright floral and peanut flavours. The cheeses ripen at around three months old after being washed regularly in brine to develop the orangy-red rind and butter interior.
*At times hamper contents may vary due to stock availability, but items will be replaced with products of the same or higher value and quality.
Caring for & storing your cheese
Your cheese has been cut & wrapped to order
Keep wrapped in wax paper
Refrigerate on receipt
Best within 14 days
Delivery Information
Nationwide delivery:
Wednesday & Friday £7.95 UK Standard Delivery Charge (per order)
Excluding some post codes; Delivery | Darts Farm
Gift messages may be added at check-out
Collection from Darts Farm is free - choose Collection at checkout.
Sustainable Packaging
A

ll of our hampers are packed carefully with all products laid flat and covered in shredded paper. This is to ensure that they are equipped for transportation and arrive with you safely.
Woolcool liners
Non-toxic re-usable gel packs
Darts Farm branded recyclable cardboard box, made in the UK
More information here:

Sustainably Driven Hampers! | Darts Farm