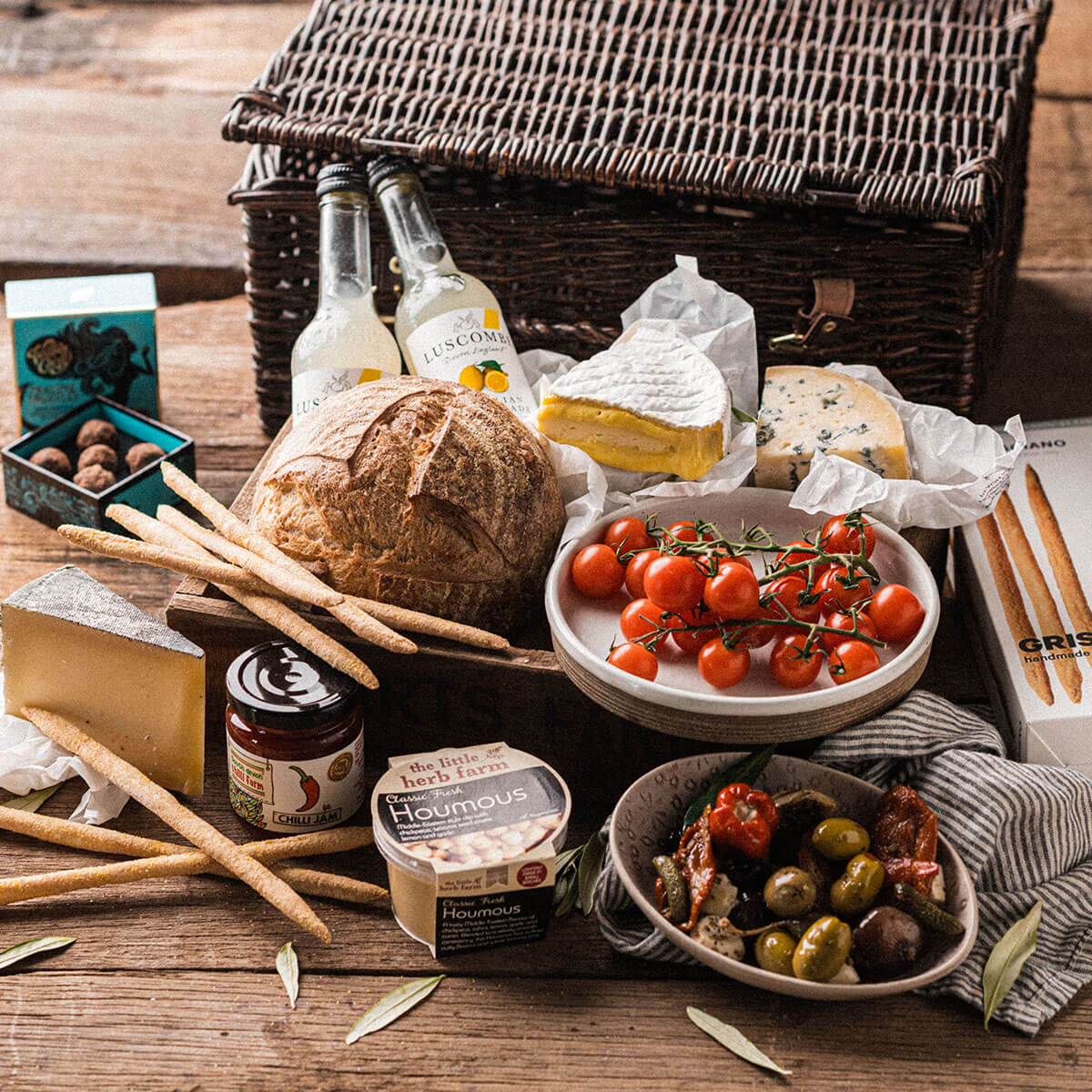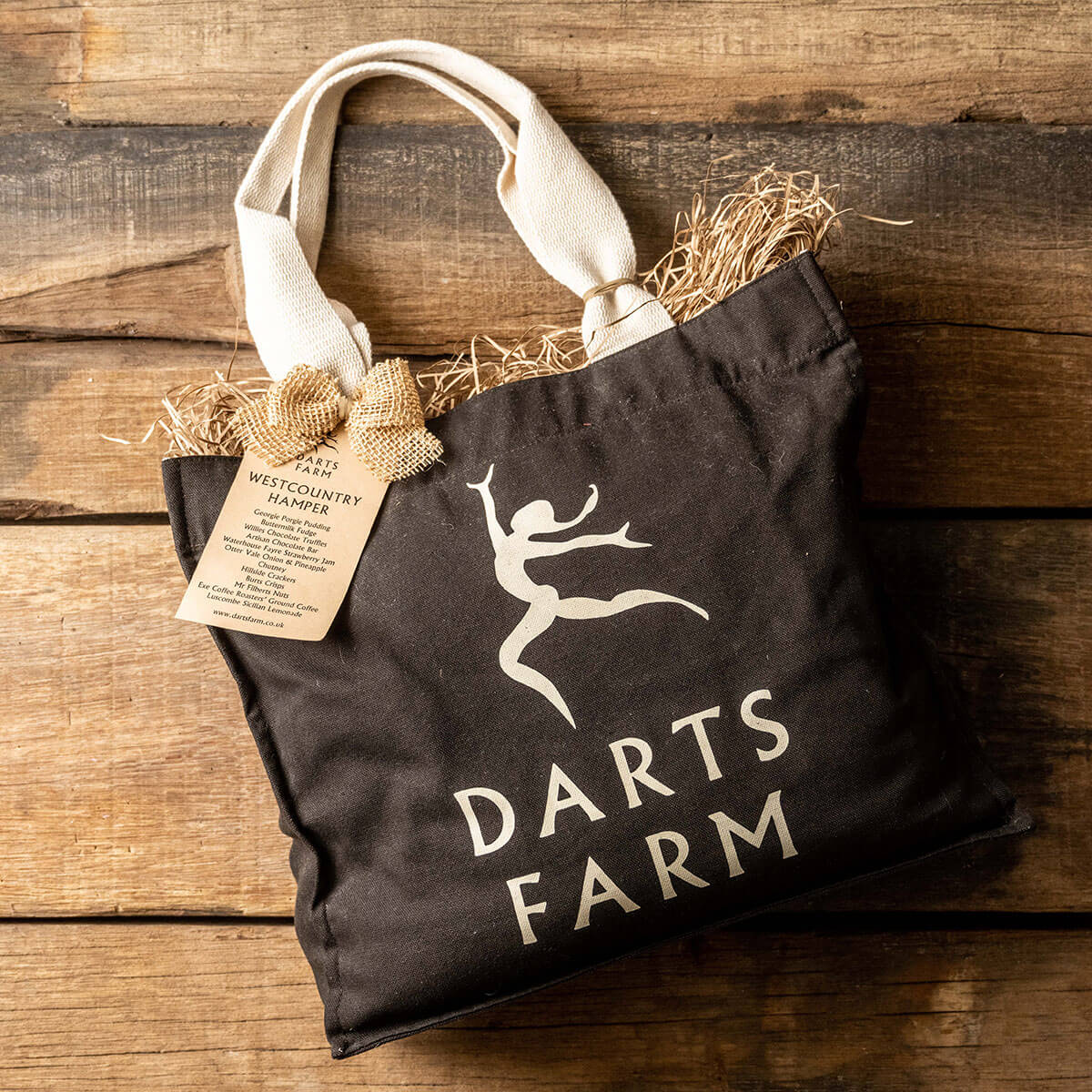 Veggie Picnic Hamper
£65.00 each
When the sun is shining, there is nothing better that an adventure with a beautiful picnic. This hamper is perfect for birthdays, anniversaries and treating your loved one on a special occasion.

Why not add some sparkle to the hamper with a bottle of fizz here
HAMPER OPTIONS: Please choose, Wicker Hamper or canvas bag in the options below. Thank you! Your Picnic Hamper will include...
Please note, all of our hampers are packed carefully with all products laid flat and covered in shredded paper. This is to ensure that they are equipped for transportation and arrive with you safely.
Read full product details
Vicky's Bread Bordelaise Loaf
Vicky Harford crafts slow rise, French style, artisan sourdough breads which take great skill to prepare. The natural fermentation of the sourdough cultures need to be carefully replenished every day to create her incredible bordelaise loaf.
Based in the Haldon Hills, the Olive Branch has been supplying Darts Farm with top quality olives, sun dried tomatoes and antipasti for over 15 years. Using their own recipes, Sue and her small team believe in using traditional methods and natural curing to make their delicious products. Their incredible antipasti uses a classic Italian recipe - artichokes, olives, feta cheese, sun dried tomatoes, onions, cornichons, sweet peppers and garlic coated in olive oil, balsamic vinegar and herbs.
Seggiano handmade Grissini are handcrafted in Piemonte, a region famous for its wines and wonderful culinary heritage. These artisan Italian Lingue are crackers as nature intended. The dough is made with the simplest authentic ingredients, rolled out by hand, then baked to a deliciously thin, golden crispiness.
South Devon Chilli Farm Chilli Jam
Award-winning South Devon Chilli Farm in Loddiswell, South Devon, have been creating chilli inspired produce for almost 20 year. Their 10 acre farm is now home to over 200 varieties of chilli plant - from subtle flavours to intense heat. Mild to Medium in heat, their chilli jam is simply delicious with cheese, crackers and much more... no wonder it is their best seller!
Handmade in small batches by owner Lindsey and her family, the team at Little Herb Farm use home-grown herbs, locally sourced fruit and veg and real fresh ingredients to craft their amazing dips, vinegars and houmous. This world-class houmous is perfect for dipping. Crafted with chickpeas, sesame seed paste, lemon and garlic, it is simply delicious!
The Tomato Stall Cherry Vine Tomatoes
The Tomato Stall have been growing tomatoes in the rich and fertile Arreton Valley for almost 15 years. The Island's unique maritime climate and their southern location on the Isle of Wight boasts some of the best sunshine levels in the UK, helping them to grow some of Britain's tastiest tomatoes.
Willies Cacao Milk Chocolate Praline Truffles with Sea Salt (4 pack)
Willie Harcourt-Cooze, artisan chocolate expert, is the only British chocolate producer to import and roast his own raw cacao beans to create award-winning confectionary. Carefully overseeing every stage, from growing & specially selecting the beans on his Venezuelan farm to slowly roasting them in his factory in Willand, Cullompton, Willie makes chocolate that is an absolute treat for the palate!
Luscombe Sicilian Lemonade 27cl x2
Based in South Devon, Gabriel David and his family have been crafting these delicious organic drinks for 45 years. By sourcing ingredients only from growers they know and trust they can guarantee that only the best goes into their bottles.
Our friend Ben Harris from Ticklemore Dairy near Totnes uses milk from dairy cows farmed within 10-miles of him. He follows a traditional Roquefort recipe; however, the resulting cheese has a style of its own. Devon Blue is renowned for it's creamy, rich and buttery taste and often has delicate blue veining throughout and a crumbly texture. Earlier this year, we visited Ben to taste through various batches made using different starter cultures to establish a flavour profile unique to Darts Farm. Ben regularly joins us at Darts Farm to share his passion and talk all things cheese. Pasteurised Cow's Milk & Vegetarian Coagulant.
On the glorious Sharpham estate, nestled amongst the banks of the River Dart near Totnes, Mark Sharman and his team take fresh raw milk from their herd of Jersey cows and apply it to a recipe that's been unique to the creamery since 1981. The curds are hand ladled into moulds, turned regularly and then brined and left to develop a furry white coat. The end result is a Coulommiers style mould ripened soft cheese that is often likened to a Brie. When ripe, Sharpham oozes a creamy rich and buttery interior that is often imitated but never bettered. Mark often joins us here at Darts Farm to share his knowledge and passion for artisan cheese and English wine.
From their small rural dairy in near Truro, Cornwall, Catherine Mead and the team at Lynher Dairies handcraft the iconic Cornish Yarg using the rich and creamy milk from their own herd of Ayrshires; bringing seasonal flavour at different times of the year. The recipe for Yarg was discovered by a farmer called Alan Gray, who found the 17th century recipe in his attic & began producing the cheese in the 1980s. Similar in style to a traditional Caerphilly, Yarg is wrapped in nettles and has a soft but creamy texture and mild, delicate flavour with notes of lemon & yoghurt.
*At times hamper contents may vary due to stock availability, but items will be replaced with products of the same or higher value and quality.
Delivery
Nationwide delivery:
Wednesday & Friday £7.95 UK Standard Delivery Charge (per order)
Excluding some post codes; Delivery | Darts Farm
Gift messages may be added at check-out
Collection from Darts Farm is free - choose Collection at check-out.
Sustainable Packaging
A

ll of our hampers are packed carefully with all products laid flat and covered in shredded paper. This is to ensure that they are equipped for transportation and arrive with you safely.
Darts Farm branded recyclable cardboard box, made in the UK
More information here: Sustainably Driven Hampers! | Darts Farm
Caring for & storing your cheese
Your cheese has been cut & wrapped to order
Keep wrapped in wax paper
Refrigerate on receipt
Best within 14 days