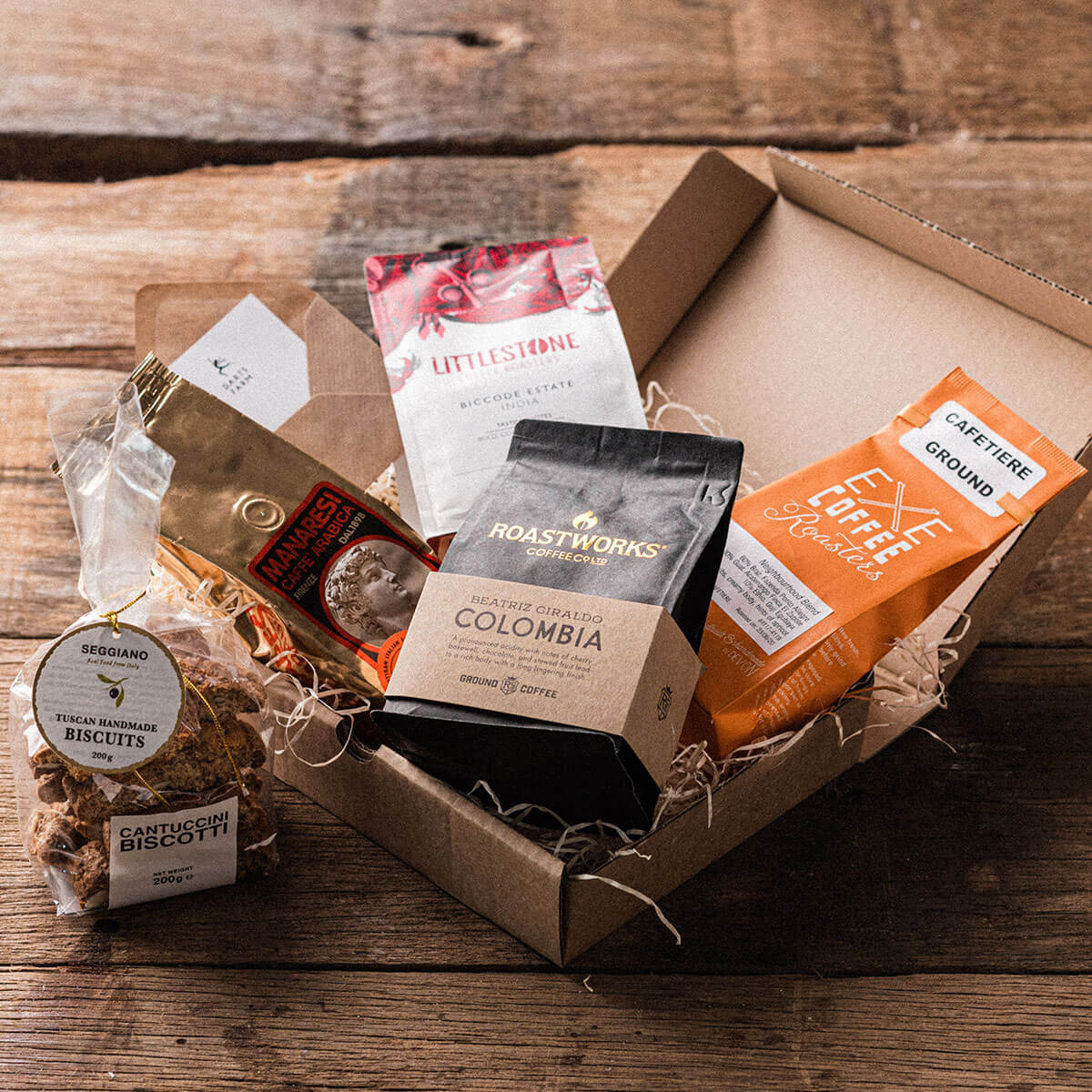 Coffee Explorer
£39.00 each
Explore some of the world's finest coffee from amazing artisan producers. This beautifully presented hamper is a wonderful gift for any occasion - delivered straight to the door!
Read Full Product Information
Exe Coffee Roasters, Ground Coffee
Our friend Steve from Exe Coffee lightly roast 100 Arabica beans to retain maximum flavour and preserve the natural fruitiness of their carefully sourced beans. Using their custom built roaster, they are able to constantly monitor the temperature of the roast to achieve incredible flavours of biscotti, black cherry and dark chocolate.
Produced in Tuscany's oldest roastery, Manaresi coffee is crafted using traditional methods and the highest quality beans. The unique flavour and indulgent aroma creates the best Italian espresso you'll ever taste!
Littlestone Coffee Roasters, Papua New Guinea
Hand roasted in Exeter in small batches, Littlestone Coffee is as fresh as can be. Bespoke roasting profiles enhance the incredible, rich flavours, we are sure you will love it as much as we do!
Roastworks, Colombia Ground Coffee
Will and Caroline Little are the people behind the Devon-based coffee company, Roastworks. Sustainability and quality is at the heart of all that they do, resulting in gorgeous coffee full of flavour!
Seggiano, Handmade Cantuccini Biscotti
For the past twenty years, Peri and David have been producing delicious, artisan products from their small hilltop village in Tuscany, using only natural, local ingredients. The result is that of wonderfully ethical and healthy food with incredible authentic flavours. Their crunchy almond biscuits are perfect for dipping, they are hand shaped into loaves which are baked and sliced while still hot.