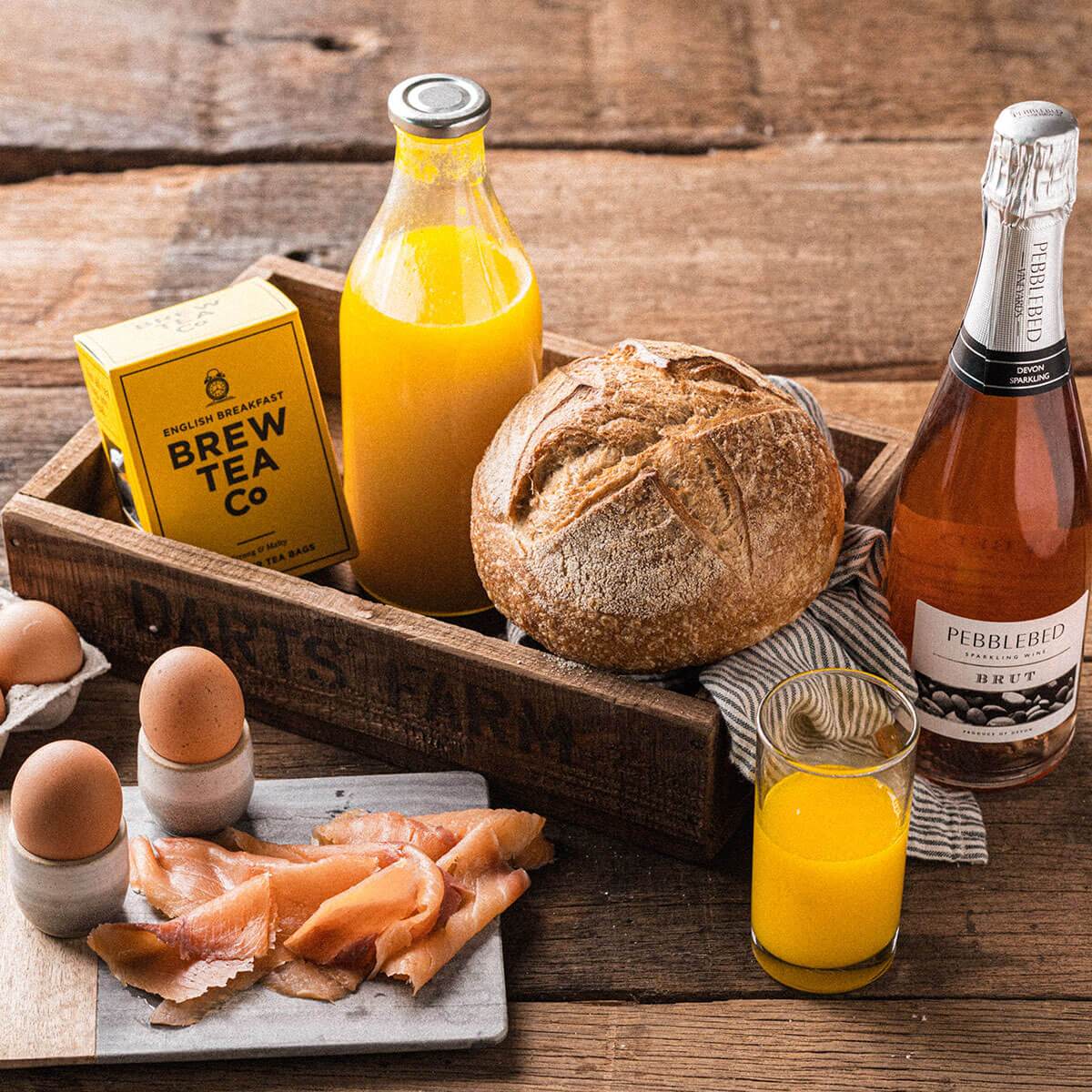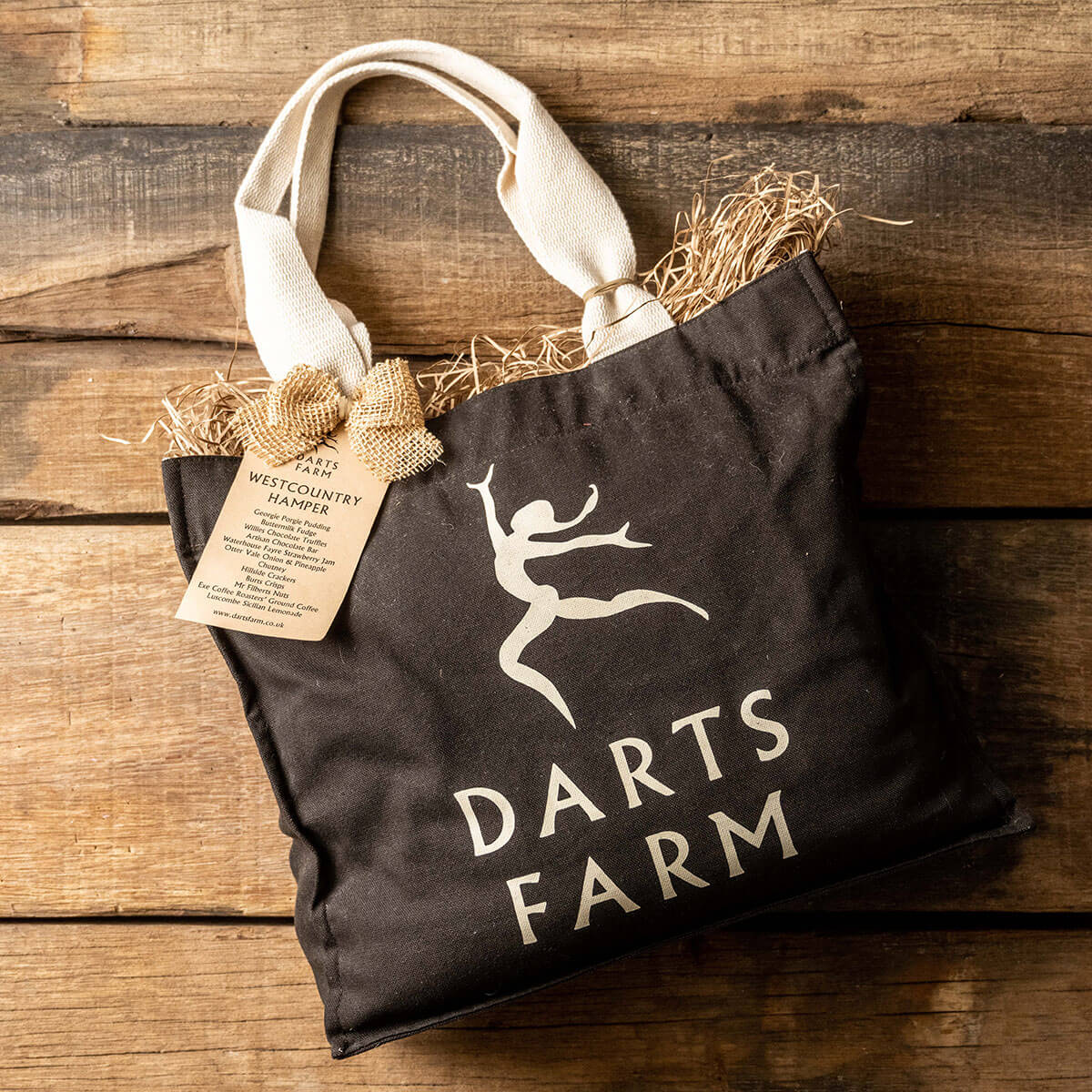 Breakfast Hamper with Fizz
£65.00 each
Start the day right with a beautiful breakfast. This hamper is perfect for birthdays, anniversaries and treating your loved one on a special occasion.

Your hamper includes; 

Hebridean Smokehouse Peat Smoked Salmon 125g 
Black Dog Free Range Eggs (x6) 
Vicky's Bread Bordelaise Loaf 
Brew Tea Bags (15)
Darts Farm Freshly Squeezed Orange Juice 1ltr

Pebblebed Sparkling Rose 
Read Full Product Information
Your Breakfast Hamper will include...
Hebridean Smokehouse Peat Smoked Salmon 125g
Prue Leith Fergus and Anne Granville produce a peaty smoked salmon quite unlike anything else we've tasted. Using locally cut peat with beechwood, and fish from the pristine Hebridean waters, this smokery is unique and their hand-prepared salmon is a must to taste!
Black Dog Free Range Eggs (x6)
Based on the family-run farm, located in the heart of Devon, that was started by Merv 50 years ago.His son Phil and daughter Lou took over and have successfully grown the business, recently coming third in national free-range egg competition. They have Lohmann Brown, free range, happy hens whose eggs are collected by hand everyday.
Vicky's Bread Bordelaise Loaf
Vicky Harford and her husband produce slow rise, French style, artisan sourdough breads which take great skill to prepare. The natural fermentation of the sourdough cultures need to be carefully replenished every day to create her incredible bordelaise loaf.
Only hand-picked, rolled, whole-leaf tea goes into every batch of Brew Tea, which gives the amazing flavour.
Darts Farm Freshly Squeezed Orange Juice 1ltr
Nothing beats a glass of our freshly squeezed orange juice for breakfast. Full of vitamin C, it is the perfect way to start your day. Freshly squeezed in our Farm Shop each day, our orange juice is brimming with antioxidants, micro-nutrients and amazing fresh flavour!
ADD SOME SPARKLE TO YOUR PICNIC...
Pebble Bed Sparkling Rose £25
Crafted just a mile from here, our dear friend Geoff Bowen launched Pebblebed as a community project in 1999. His immense passion for sustainable viticulture along with the role of food and drink in our community meant that Pebblebed grew into the award winning vineyard it is today. Sadly, Geoff passed away in 2018 leaving his wife Anna and head winemaker Alex to continue to pursue his dream of creating exceptional English wines. A blend of Seyval Blanc and Rondo, this fizz is a wonderful salmon pink colour, with an excellent creamy mouse, delicate red berry and rose petal flavours balancing the fresh acidity.
*At times hamper contents may vary due to stock availability, but items will be replaced with products of the same or higher value and quality.