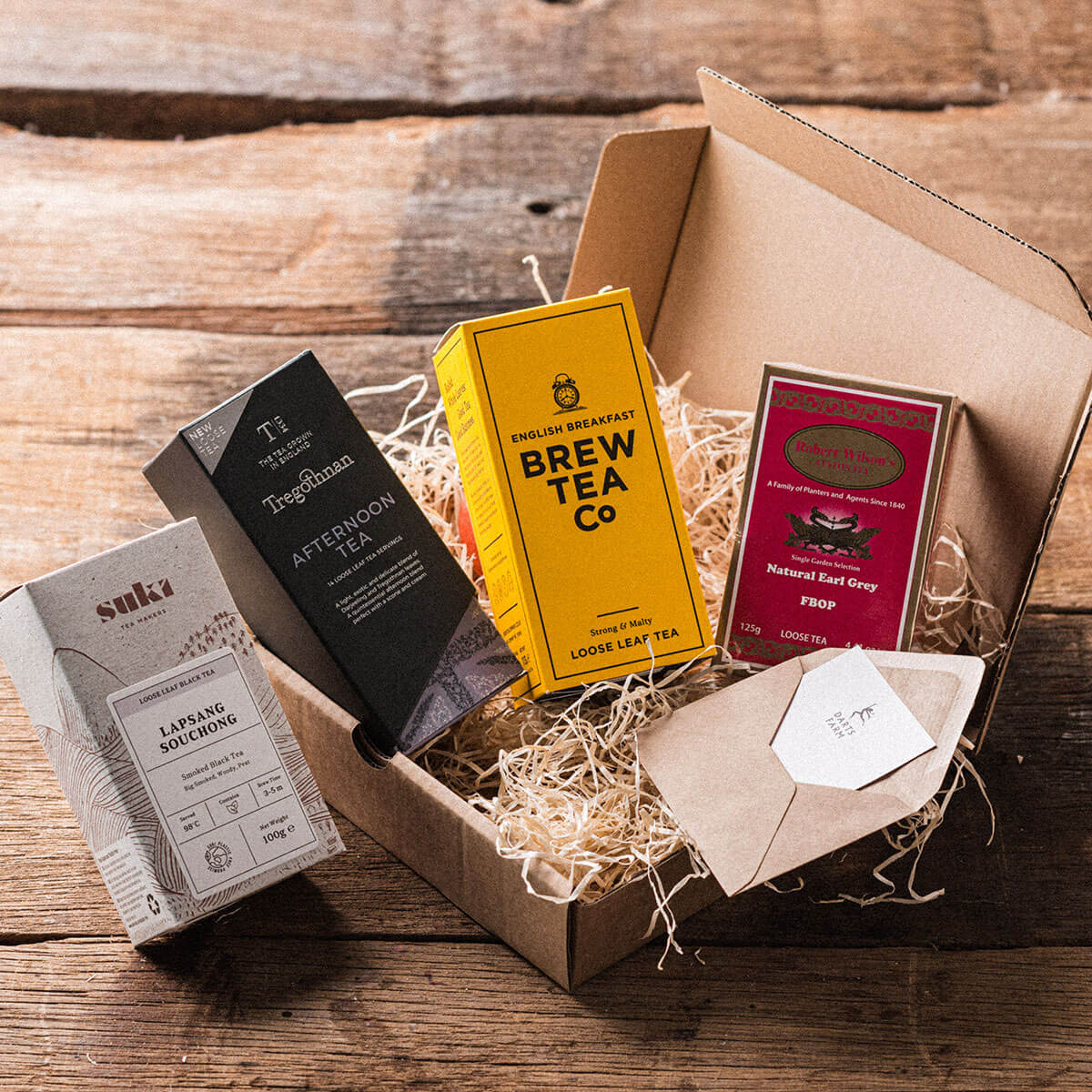 Traditional Tea Tasting Experience
£39.00 each
Whether you're partial to a morning brew, or enjoy a cuppa' with a sweet treat in the afternoon, this selection of traditional teas is simply amazing.
The perfect artisan gift for the tea lover in your life and not to mention a lovely treat for yourself... delivered straight to the door! 
Please note, all of our hampers are packed carefully with all products laid flat and covered in shredded paper. This is to ensure that they are equipped for transportation and arrive with you safely.
Read Full Product Details
Tregothnan, Loose Leaf Afternoon Tea
Tregothnan Estate, in Cornwall, is home to the Boscowen family, descendants of Earl Grey himself. The Estate has a long and steep heritage in delicious tea, after first importing their precious Camellia tea plant over 200 years ago. Today, their Afternoon Tea is hand-picked on their estate in Cornwall and blended with the Champagne of teas, Darjeeling.
Brew Tea, Loose Leaf English Breakfast Tea
Aideen and Phil use only hand-picked, rolled, whole-leaf tea in each batch of Brew Tea, which gives the amazing flavour. The tasty richness of Indian Assam coupled with the refreshment of a Ceylon makes this the perfect blend to wake up to.
Robert Wilson, Natural Earl Grey
Robert Wilson is the 5th generation of his family business to work directly with individual Ceylon (Sri Lanka) tea growers to produce the highest quality single estate teas.
Robert hand-selects the best leaves during Ceylon's two tea growing seasons, which is influenced by the elevation and Ceylon's proximately to the equator. This ensures that each individual tea is handpicked at it's peak flush, giving it it's own unique character and diverse, intense flavour.
Natural Earl Grey is crafted using natural bergamot oil together with the leaf from one carefully selected estate, creating a superbly balanced tea.
Suki Tea, Lapsang Soochong
15 years ago, Annie and Oscar set up a small stand at a farmer's market in Belfast. Today, the Belfast based team are still ethical sourcing their selection of Fairtrade and Rain Forest Certified loose leaf teas from around the world, ensuring the best quality and taste. Completely plastic free, these tea blends are great for home compost! Lapsang Souchong is a Black Tea, famous for it's smoky aroma and flavour; achieved from being dried over pine and cedar wood fires.