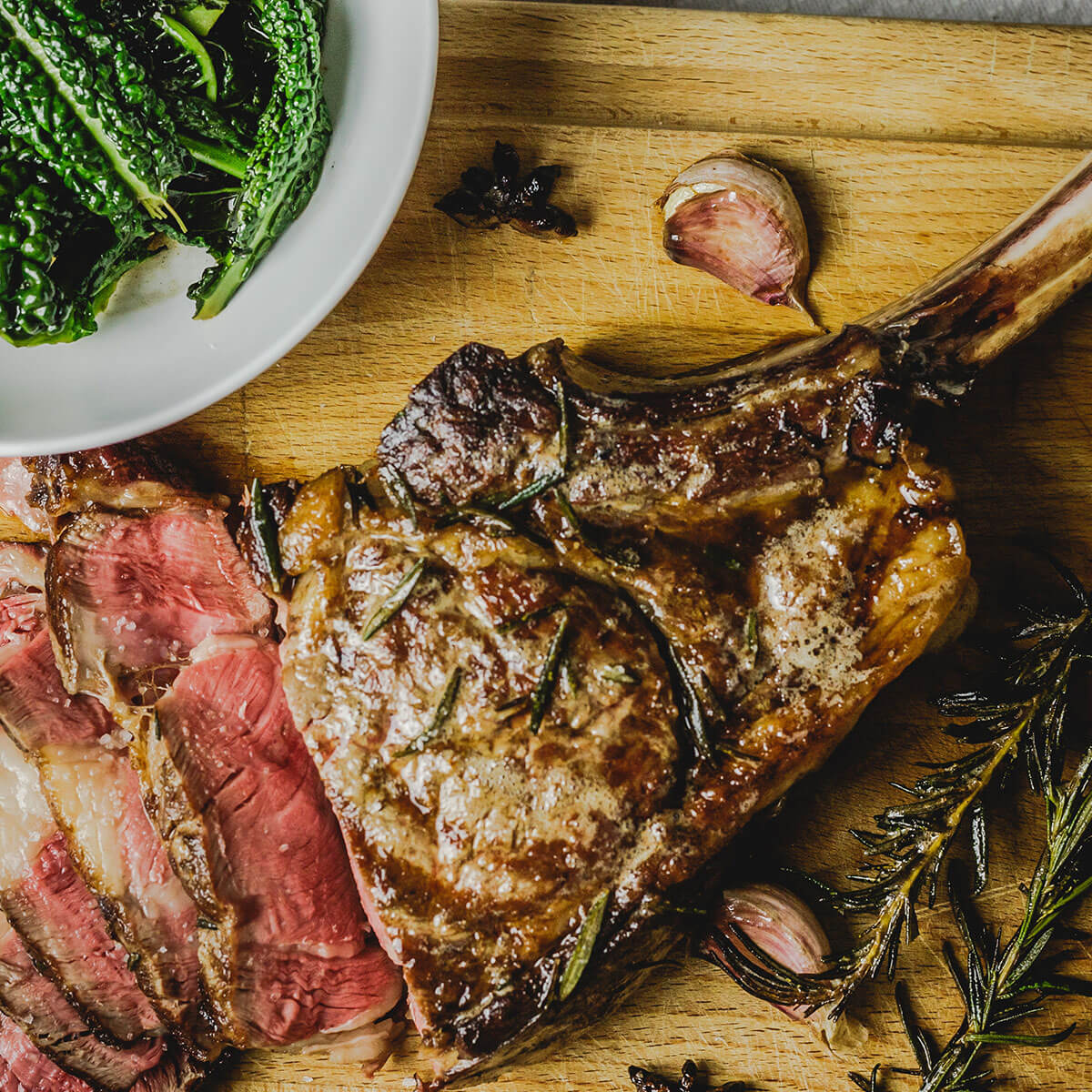 Tomahawk Steak Sharing Feast
£55.00 each
This box is filled with everything you need to wow a loved one with a show-stopping Tomahawk steak feast - incredibly tender, with a buttery rich flavour it is perfect for a special date night.
Your 'Tomahawk Steak Sharing Feast' box will include; The Darts Farm Butchers 48oz Tomahawk Steak, a bunch of Fine Beans, The Tomato Stall Cherry Vine Tomatoes, Forest Fungi King Oyster Mushroom, Pott's Three Peppercorn & Brandy Sauce, The Garlic Farm Bulb of Garlic, 1kg Darts Own Potatoes & a few sprigs of fresh Rosemary.
Feeling adventurous? Why not try making a herb butter with some tips from our Master Butchers in their Guide To The Perfect Steak Supper!
Read full product information
The Darts Farm Butchers 48oz Tomahawk Steak
Our Master Butchers, Phillip and Alastair, are experts in sourcing and hand selecting the finest quality, locally reared meat. You'll see our own Ruby Red cattle grazing on the banks of the River Clyst - a native Devon breed producing the highest quality beef. The Reds are a slower growing breed & they take time to grow to their natural maturity - producing something a little bit special.
The 40 day hung and dry aged Tomahawk Steak is an on-the-bone rib steak, cut from the fore rib with the entire rib bone left. This impressive and delicious steak is perfect for sharing on a special occasion or for a romantic meal - it is no wonder that the Tomahawk is a firm favourite of world-class chefs Michael Caines (MBE) and Raymond Blanc (OBE).
Fine Beans - With a crisp texture and just the right amount of sweetness, you can't beat the snap of a fresh bean. Simply boil for a few minutes and season with salt!
The Tomato Stall, Cherry Vine Tomatoes - The Tomato Stall have been been growing tomatoes in the rich and fertile Arreton Valley for almost 15 years. The Island's unique maritime climate and their southern location on the Isle of Wight boasts some of the best sunshine levels in the UK, helping them to grow some of Britain's tastiest tomatoes.
Forest Fungi, King Oyster Mushroom- Scott and his family grow their gourmet, organic mushrooms in Dawlish. Their 'Shroom Rooms' create a micro climate similar to that in Asia - meaning the family team provide the highest quality care and attention throughout the whole growing process, resulting in the best tasting, fresh mushrooms!
The Bay Tree Peppercorn Sauce - Emma Macdonald marries traditional cooking methods with innovative flavours to create The Bay Tree's delicious sauces; this creamy sauce is the perfect partner for steak!
The Garlic Farm, Bulb of Garlic - Colin, Jenny and their family have been growing and hand picking their garlic on the Isle of Wight for over 40 years. The unique conditions mean the garlic is bursting with flavour.
1kg Devon New Potatoes - Beautiful, fresh and full of flavour!

Optimal climatic conditions mean that Cornwall and Devon yield the earliest of the UKs potato crop each year.

Devon New Potatoes are incredibly versatile; they are delicious simply boiled with a knob of butter or fried with little bit of garlic and rosemary.
Not forgetting a few fresh sprigs of Rosemary...the herb's piney flavour makes it a wonderful pairing to beef. We recommend using the garlic, rosemary and some salt as a rub before frying with butter!
Depending on your taste, there are four wines that we recommend pairing with your steak dinner; Sharpham Pinot Noir, Domaines Barons de Rothschild Blason D'Aussieres, Domaine Vincent Bouzereau Pommard or Cascina Fontana Barbera D'Alba. To discover your perfect date night tipple, head to our red wine selection.
*At times hamper contents may vary due to stock availability, but items will be replaced with products of the same or higher value and quality.
cooking instructions
How to cook your Tomahawk Steak…
Take the steak out of the refrigerator 30 minutes prior to cooking to bring it to room temperature.
Preheat the oven to 200ºc. Season the steak with salt, pepper, garlic and rosemary.
If you have an oven proof pan like a cast iron skillet, large enough to fit it, use butter or oil to sear the steak on all sides over medium-high heat. (If a large cast iron is not available, simply place the tomahawk in the oven for 15 minutes at 240ºc and then lower the temperature to 200ºc)
Once the tomahawk is evenly browned on all sides, place it on a rack and put it in the oven with the remaining garlic and rosemary. Cook for about 20 minutes or until the internal temperature reaches 55ºc-57ºc, remember the internal temperature of the steak will continue to rise after coming out of the oven.
Let the steak rest for at least 10 minutes to allow the juices to redistribute. Carve the steak off the bone and slice against the grain.
Serve with your potatoes, fresh veg and The Bay Tree Peppercorn Sauce and enjoy!
King Oyster Mushroom
Carefully slice your mushroom in half lengthways and lightly score a diagonal crisscross pattern into the cut side.
Place a pan over a high heat and once it is almost smoking, add a drizzle of olive oil and the mushroom (cut side down).
Turn the heat down to medium-high and cook for 3-5 minutes until golden in colour.
Add butter, once melted season with salt and garlic.
Turn the mushroom over and baste with the butter until cooked through and then drain on kitchen roll.
Roasted Cherry Vine Tomatoes
Put the tomatoes, still on the vine, onto a baking tray. Drizzle over the oil and season with flaky sea salt and freshly ground black pepper and cook for around 15 minutes. Spoon over the oil and juices to serve.
Seasonal Greens
Cook to preference, whether that is steaming or roasting in olive oil, sea salt and freshly ground pepper!