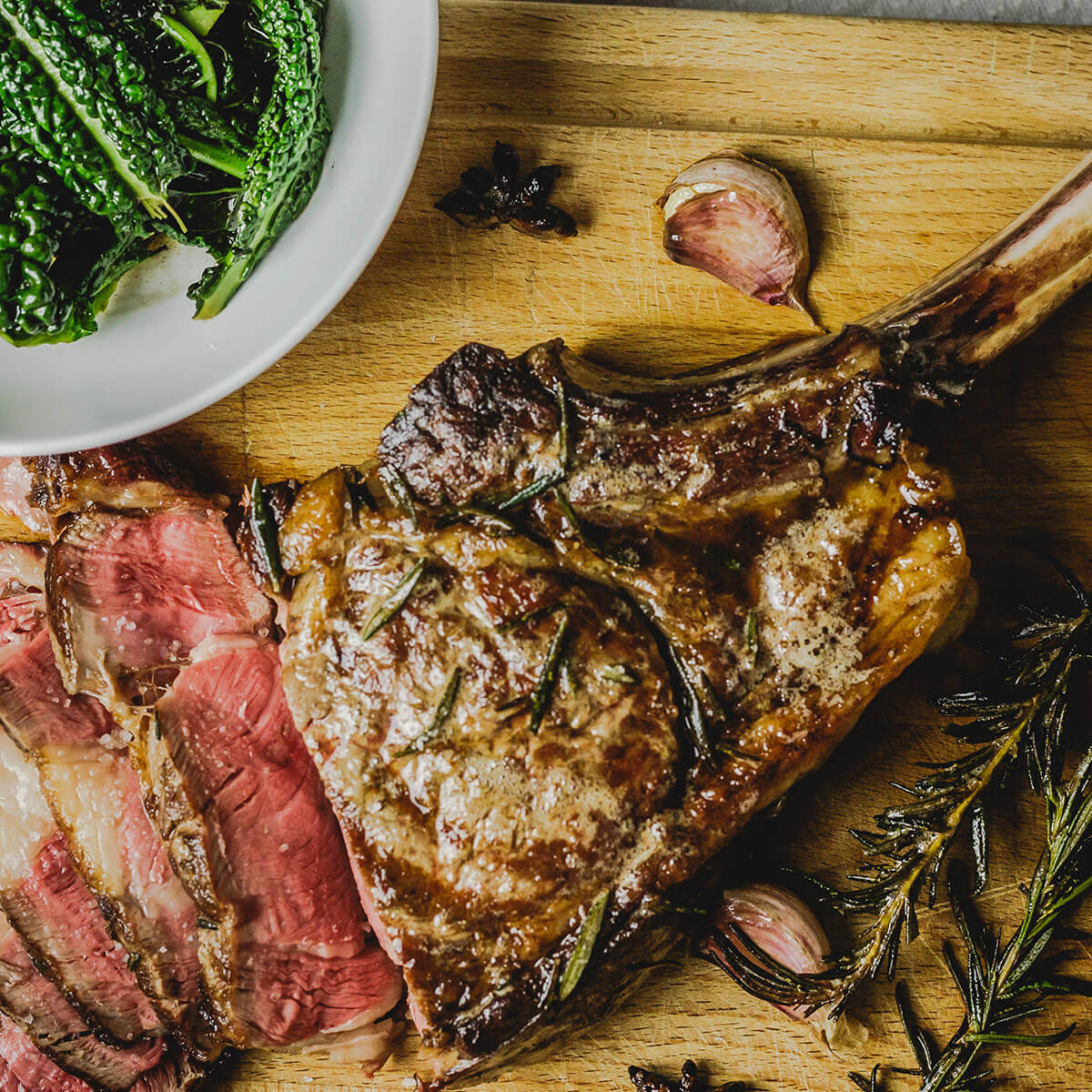 Tomahawk Steak
£25.60 each
Our 40 day hung and dry aged Tomahawk Steak is an on-the-bone rib steak, cut from the fore rib with the entire rib bone left. This impressive and delicious steak is perfect for sharing on a special occasion or for a romantic meal - it is no wonder that the Tomahawk is a firm favourite of world-class chefs Michael Caines (MBE) and Raymond Blanc (OBE).
Our Master Butchers, Phillip and Alastair, are experts in sourcing and hand selecting the finest quality, locally reared meat. You'll see our own Ruby Red cattle grazing on the banks of the River Clyst - a native Devon breed producing the highest quality beef. The Reds are a slower growing breed & they take time to grow to their natural maturity - producing something a little bit special.
32oz Tomahawk Steak (908g) £25.60
48oz Tomahawk Steak (1.36kg) £36.70
Please choose your TYPE below in OPTIONS and then choose your QUANTITY.
Cooking Instructions
Our Master Butchers recommend cooking your Tomahawk steak as follows:
Bring the steak to room temperature and season with a good amount of rock salt
Pre-heat your oven to 180c fan
In a frying pan with a knob of butter, sear all the edges of the steak
Place in the oven for 20 minutes to achieve a medium/rare result, if you require the steak slightly more cooked leave in for another 5 minutes
Take out and rest (this is essential, the meat will carry on cooking slightly and retain juices better) for 10 minutes on a chopping board covered in a tea towel
Season again with rock salt and serve