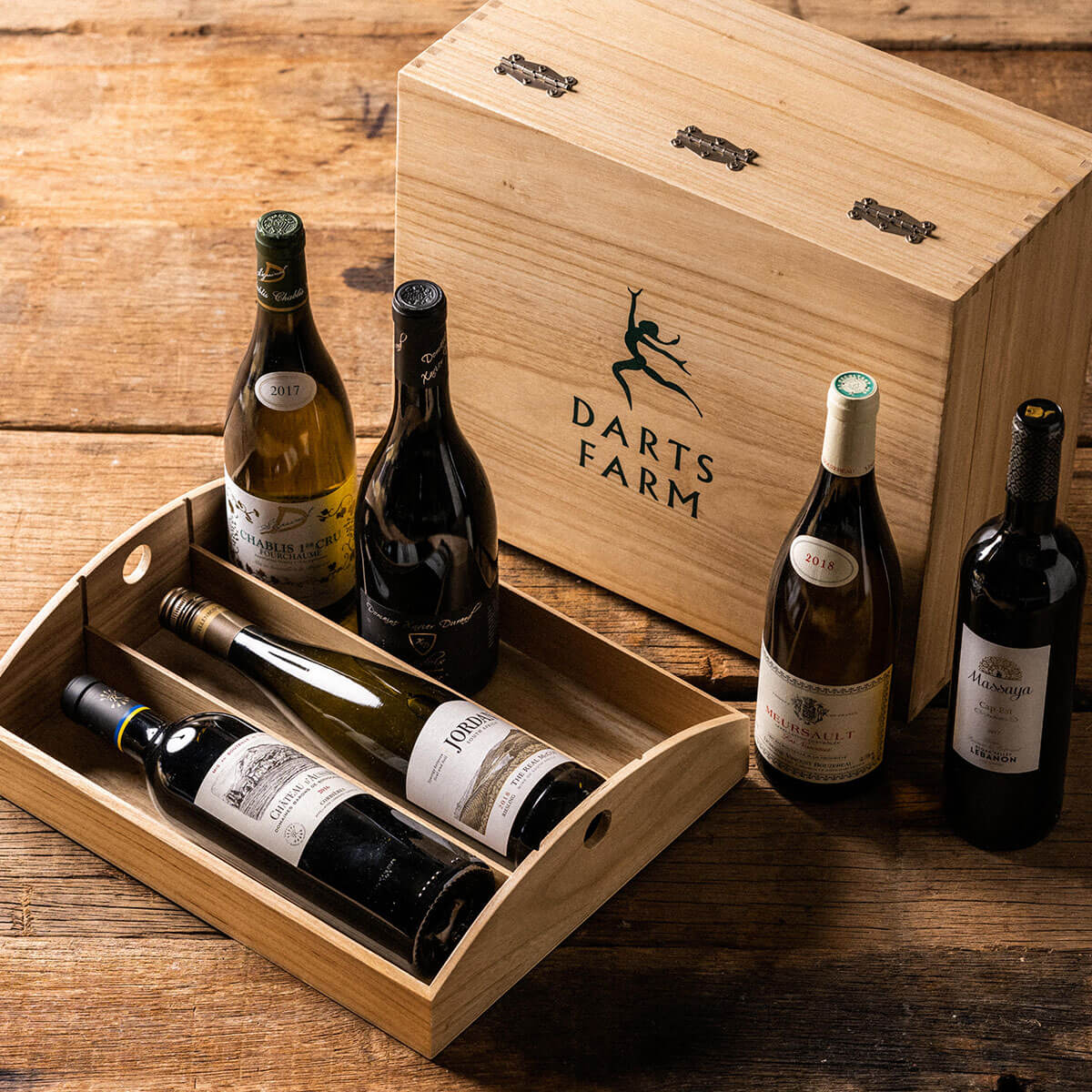 The Wine Connoisseur Hamper
£259.00 each
This box contains 6 beautiful wines, hand-picked by our Drink Cellar team, from world-class, family vineyards. It is the perfect gift for any wine lover. 

Packed in our sustainable Darts Farm wooden wine box.
Read Full product information
Your Wine Connoisseur Hamper will include...
Domaine Vincent Bouzereau Meursault Les Narvaux 750ml
In 2014, whilst exploring the region to find small, high quality, artisan wine producers, Michael and James Dart discovered the Bouzereau family estate and were drawn to their openness, exquisite produce and traditional, strong family values. Located above the premier cru Les Genevrières, Bouzereau's 3 parcels of Narvaux sit on lean, stony soils and thick limestone. This sector of Meursault produces very mineral wines and is the site marked most by limestone. Young, the nose develops notes of white flowers then evolves to more complexity and an almost Chablis-like texture.
Seguinot et Filles 1er Cru Fourchaume 750ml
The Seguinots have been working the vines for generations. Daniel's vineyard is located on the right bank of the river Serein, where he produces his award-winning Chablis. The light calcareous clay soils impart floral, fresh and mineral aromas to Chablis wine. The Chablis Premier Cru Fourchaume appellation is ideally located on the slopes, on the right bank of the Serein river with perfect sun exposure to express its personality. Sensual and complex in flavour, with an ageing potential of up to 10 years, this beautiful wine pairs harmoniously with scallops, shellfish, flat or smoked fish and poultry in cream sauce.
Jordan Estate Real McCoy Riesling
Gary and Kathy Jordan have been crafting world-class wine in the heart of the Stellenbosch wine region in the Western Cape, South Africa, for nearly 40 years. 10 years prior to the husband and wife team taking over, Gary's parents embarked on an extensive replanting programme specialising in the classic varieties suited to the different soils and slopes on their land. Today, the family team continue to focus on producing fiercely individual wines that combine the fruity accessibility of the 'New World' with the classic elegance of the 'Old'. This wine is a great accompaniment to light Asian dishes thanks to it's intense lime, peach and apple flavours.
The Ghosns family began to produce their incredible wine almost 40 years ago, after reclaiming their countryside house and land that has been abandoned during the civil war in Lebanon. Almost 10 years later, the first new generation winery was launched - marking the renaissance of wine making in Lebanon. Today, the Ghosns base their wine making principles on years of experience detecting the right terroirs and grape varieties; these principles include growing grape varieties that are resistant to climate change and can withstand hotter and longer dry season. This wine is pale ruby in colour, with a nose that subtly blends violets and very ripe red berry fruits. On the palate, seductive velvety elegance overlays an attractive weave of fine tannins, highlighting the minerality of the terroir.
Domaine Barons Rothschild, Chateau D'Aussieres
20 years ago, Baron Eric de Rothschild acquired one of the oldest and most beautiful wine-making estates in the Languedoc region. Today, the 167 hectare vineyard is managed by his daughter Saskia.
Vinification is performed traditionally and alcoholic fermentation takes place in temperature controlled stainless steel and concrete vats. During fermentation, the wine is regularly pumped over to allow a gentle extraction of the tannins. 40% of Chateau d'Aussieres is aged in oak barrels and bottled after 12 to 16 months.
Chateau D'Aussieres expresses all the richness and elegance of the late-ripening, cool terroir; with notes of black fruit and spices, an elegant tannic structure and notes of the barrel ageing in the lingering finish.
Domaine Durand, Cote de Beaune Ladoix
28 year-old Xavier Durand took over the 12 hectare family domaine , from his father, Rene at the beginning of 2011. Yields have been dramatically reduced and the emphasis is now on terroir with all lieux-dits now clearly stated on the labels. These are wines of great precision and freshness, with a wonderful purity. The humble, medium bodied Ladoix, Cote de Beaune reveals the care and attention that Xavier puts in to all his wines. This red pairs perfectly with beef, lamb and cheese.