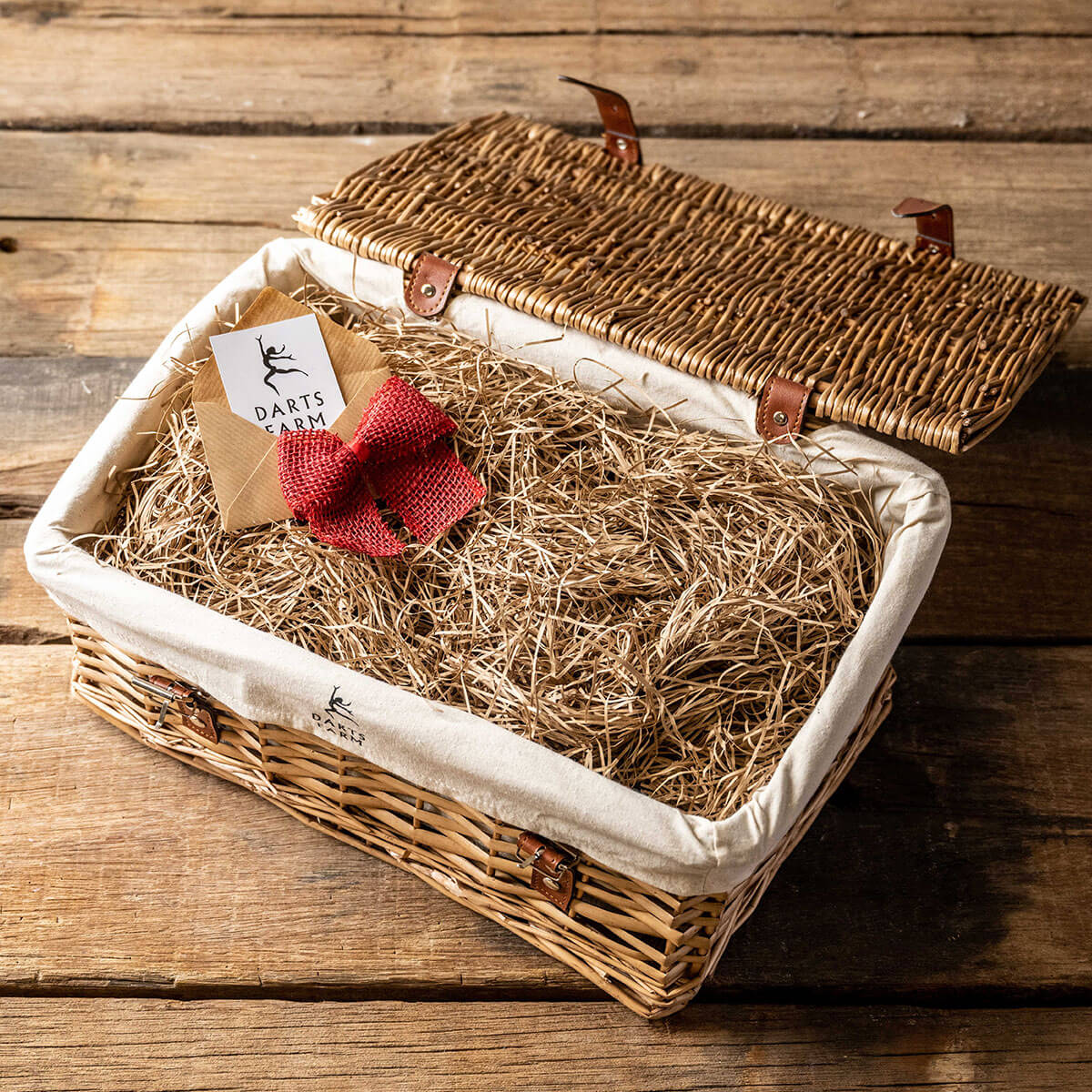 The Ultimate West Country Hamper
£285.00 each
This indulgent West Country Hamper is full of the best products, hand-selected from our Food Hall, from our regions fantastic producers. From our picnic and cream tea favourites, to local tipples and sweet treats, this really is the perfect gift for a special occasion!
*Our West Country hampers include The Fine Cheese Co. Crackers, not Hillside as pictured.
This hamper comes in a beautiful wicker basket, with chilled items in a separate insulated, recyclable card box.
Please note, all of our hampers are packed carefully with all products laid flat and covered in shredded paper. This is to ensure that they are equipped for transportation and arrive with you safely.
*At times hamper contents may vary due to stock availability, but items will be replaced with products of the same or higher value and quality.
Read Full Product Description
Your Ultimate West Country Hamper will include…
Georgie Porgie Pudding (Serves 6-8) - Handcrafted using Westcountry Cider, fresh apples and brandy, this is a pudding lovers' favourite - with a taste of Devon in every mouthful! George hand-makes his delicious 'melt in the mouth' puddings in Budleigh Salterton, Devon. His apple and cider Pudding brings you dessert and drinks all in one!
Suzy Sweet Tooth Fudge Gift Box 200g - France Vanhecke has been hand crafting her delicious Devon Fudge in the seaside village of Westward Ho! for the past 8 years. Using a traditional recipe and absolutely no palm oil, each piece of melt-in-your-mouth fudge has a beautiful buttery taste and a crumbly rich texture.
Willie's Cacao Truffles 110g - Willie Harcourt-Cooze, artisan chocolate expert, is the only British chocolate producer to import and roast his own raw cacao beans to create award-winning confectionary. Carefully overseeing every stage, from growing & specially selecting the beans on his Venezuelan farm to slowly roasting them in his factory in Cullompton, Willie makes chocolate that is an absolute treat for the palate!
Kernow Chocolates Trio of Bars -

These award-winning chocolates are handcrafted in the heart of Cornwall by the Shapland family. Each incredible chocolate is crafted using sustainably sourced cocoa and infused with delectable, locally sourced flavours to create the perfect sweet treat.

Waterhouse Fayre Strawberry Jam - Ann and Neil Stallard handcraft their award-winning jams and preserves in Tiverton, Devon. Each jam is crafted using open preserve pans in small batches to ensure maximum flavour and top quality! Sumptuously sweet, their strawberry jam is perfect on your sourdough at breakfast breakfast or with a dollop of local cream on a hand-baked scone.
Darts Farm Honey - Our friend and devoted beekeeper Phillip collects our pure Devon honey straight from our hives, always ensuring an ample amount is left to support our busy bees. Our bees are crucial to sustaining our local biodiversity; pollenating our crops, pastures and hedgerows to help our land around the Clyst Valley flourish. Our delicately flavoured honey is a sweet reminder of the hard work and passion that goes into preserving our beautiful landscape so please savour every last drop.
Otter Vale Onion & Pineapple Chutney 500g - Nestled in the rolling hills of Devon, Otter Vale have been handcrafting delicious chutney's for 40 years! Using only the finest quality, local ingredients, award winning chutney is truly delicious and completely gluten free!
The Fine Cheese Co. Crackers - With over 20 years experience in the cheese industry founder, Ann-Marie Dyas, and her team at Fine Cheese Co. are committed to the survival of British cheese-makers, and introducing farmhouse cheeses to as wide a public as possible. Their love of cheese extends further into producing delicious cheeseboard accompaniments, which are handcrafted in Bath, using only the finest ingredients.
Burts Crisps - Hand fried potato chips made in Devon, using only natural ingredients and specially selected potatoes to produce the best potato chips you have ever tasted!
Mr Filbert's Nuts - In 2010, within the quirky surroundings of a Dorset Watermill, Mark Taylor set about creating his nutty fine foods company. A wholesome alternative to the hand-cooked crisp, Mr Filbert's all-natural snacks are a fusion of nuts, seeds and fruit. A delectable, healthy nibble!
Exe Coffee Our friends at Exe Coffee lightly roast 100% Arabica beans to retain maximum flavour and preserve the natural fruitiness of the beans. Using their custom built roaster, they are able to constantly monitor the temperature of the beans to achieve incredible flavours of biscotti, black cherry and dark chocolate.
Tregothnan Loose Breakfast Tea - Tregothnan Estate, in Cornwall, is home to the Boscowen family, descendants of Earl Grey himself. The Estate has a long and steep heritage in delicious tea, after first importing their precious Camellia tea plant over 200 years ago. Today, they blend their Cornish leaves with the finest leaves from Assam and Darjeeling to create a distinctive flavour.
Luscombe Sicilian Lemonade - Nothing beats the refreshing taste of a Luscombe drink. Based in South Devon, Gabriel David and his family have been crafting these delicious organic drinks for 45 years. By sourcing ingredients only from growers they know and trust they can guarantee that only the best goes into their bottles.

Pebblebed Vineyards - Pebblebed was founded by our dear friend and neighbour, Geoff Bowen, in 1999 as a sustainable, small vineyard just over the hedge from Darts Farm here in Devon. Geoff sadly passed a few years ago, but wished for Pebblebed's legacy to continue as part of the Darts Farm family. The day-to-day running of the 22 acre vineyard and making of the wine continues under the expert hands of head wine maker, Alex, who has been part of the Pebblebed team for nearly 10 years.

Pebblebed Red - is a blend of Rondo, Regent and Pinot Noir. A proportion of this wine is matured in Burgundy oak barrels for up to 12 months, adding depth and complexity to the wine prior to bottling. A deep ruby-purple colour, spice and herbal hints on the nose, cherry and plum fruits on the palate and a chocolatey finish with smooth tannins.

Pebblebed White -

A blend of Madeline Angevine, Phoenix and Seyval Blanc. It has a pale lime colour, elderflower notes on the nose, tropical fruits; grapefruit and lychees on the palate and a crisp minerally finish.



Sparkling Rose - Just a mile from here, our dear friend Geoff Bowen launched Pebblebed as a community project in 1999. His immense passion for sustainable viticulture along with the role of food and drink in our community meant that Pebblebed grew into the award winning vineyard it is today. Sadly, Geoff passed away in 2018 leaving his wife Anna and head winemaker Alex to continue to pursue his dream of creating exceptional English wines.

Otter Bright - For five generations, the McCaig family have been passionate about the great tradition of brewing fine ales. Based in Honiton, Patrick McCaig has been running the well-known Otter Brewery since 1990, establishing it as a place that reflects and respects the heritage of good beer production. This pale, golden beer has flavours of citrus fruit - a refreshingly fruity, tasty beer.
Black Tor DPA - A family-run microbrewery located in the heart of Dartmoor. Using traditional brewing methods, Black Tor combines the best whole leaf hops, malted barley and Dartmoor water to create flavoursome cask and bottle conditioned ales with a unique character.
DPA is an easy-drinking pale ale, golden colour with smooth bitterness, citrus flavours, floral aromas & crisp dry finish. Enjoy with a hearty ruby red beef stew or casserole.
Sandford Orchards Devon Red - The best West Country cider, crafted by our friends at Sandford Orchards in the heart of rural Devon. Expert cidermaker Barny Butterfield, is passionate about protecting Devon's traditional cider methods. His award-winning ciders use naturally fermented apple juice from orchards within a 30-mile radius of their press in Crediton. Devon Red is a perfectly balanced, refreshing, medium cider named after the rich red soil that gives our orchards their distinctive quality.
Ridge Furrow, Devon Craft Sweet Cider - Produced in small batches at Weeks Farm in Mutterton, Devon, using traditional Westcountry cider apple varieties from their own ridge and furrow patterned orchard that dates back to the 1890s. Handcrafted using the artisan method of 'arrested fermentation' induced by multiple rackings, the production of this cider is tailored to each year's apple harvest. This fresh, slightly sparkling cider is naturally sweet, full flavoured and well-balanced; perfect for enjoying alongside a dessert such as apple pie.
Honey Roast Ham 200g - Using pork from one of our incredible local farmers, our deli team coat the ham joint with natural honey and cloves and cook until juicy and golden brown.
Capreolus Dorset Air Dried Ham - The legs of Oxford Sandy & Black pigs, bred in Halstock, are cured with pepper and fennel and are then air-dried for many months in their maturing room. This long process makes the meat meltingly tender and the fat becomes silky smooth and full of flavour. Try serving this ready to eat meat with fresh figs and a chilled Beaujolais or a fine rosé wine.
Good Game Bresaola 100g - Handcrafted by Pete & Steve of Good Game, Topsham using air-dried silverside from our own Darts Farm beef.
Vicky's Bread Bordelaise Loaf - Vicky Harford and her husband produce slow rise, French style, artisan sourdough breads which take great skill to prepare. The natural fermentation of the sourdough cultures need to be carefully replenished every day to create her incredible bordelaise loaf -the smell alone is enough to get your mouth watering.
The Olive Branch Antipasti 250g - Based in the Haldon Hills, the Olive Branch has been supplying Darts Farm with top quality olives, sun dried tomatoes and antipasti for over 15 years. Using their own recipes, Sue and her small team believe in using traditional methods and natural curing to make their delicious products. Their incredible antipasti uses a classic Italian recipe - artichokes, olives, feta cheese, sun dried tomatoes, onions, cornichons, sweet peppers and garlic coated in olive oil, balsamic vinegar and herbs.
Devon Blue 200g - Our friend Ben Harris from Ticklemore Dairy near Totnes uses milk from dairy cows farmed within 10-miles of him. He follows a traditional Roquefort recipe; however, the resulting cheese has a style of its own. Devon Blue is renowned for it's creamy, rich and buttery taste and often has delicate blue veining throughout and a crumbly texture. Earlier this year, we visited Ben to taste through various batches made using different starter cultures to establish a flavour profile unique to Darts Farm. Ben regularly joins us at Darts Farm to share his passion and talk all things cheese. Pasteurised Cow's Milk & Vegetarian Coagulant.
Sharpham Brie 200g - On the glorious Sharpham estate, nestled amongst the banks of the River Dart near Totnes, Mark Sharman and his team take fresh raw milk from their herd of Jersey cows and apply it to a recipe that's been unique to the creamery since 1981. The curds are hand ladled into moulds, turned regularly and then brined and left to develop a furry white coat. The end result is a Coulommiers style mould ripened soft cheese that is often likened to a Brie. When ripe, Sharpham oozes a creamy rich and buttery interior that is often imitated but never bettered. Mark often joins us here at Darts Farm to share his knowledge and passion for artisan cheese and English wine.
Quicke's Mature 200g - If there's any cheese that truly represents the taste of Devon it's Quicke's. The Quicke family have been stewards of 'Home Farm' in Crediton for almost 500 years, with Mary Quicke now holding the mantle and pioneering the way in farmhouse cheddar production. Mary's cheese is metaphorical of her ethos 'farm as if you're going to live forever', and with generations of experience and craftmanship behind her, she is able to capture the best expression of the grass, soil and seasons. Each day, once their unique herd of dairy cows have been milked, the cheese is 'started' with a live-culture that has remained unchanged for years and encompasses the biodiversity of the farm. A natural rennet is then added to separate the curds from the whey and the cheddaring process begins. The cheeses are then matured for up to two years in their 'Cathedral of Cheese', where they are carefully monitored and turned every 10 days. Our relationship with Quickes goes back to when Mary used to sell cheese to our mother, Enid, many decades ago!
Ryder's Bakery Scones x 4 - This 3rd generation, family owned and run bakery is based in Kenn, Devon and have been hand-making the finest baked goods for almost 50 years. Mandy, Shaun & their daughter Ellena use traditional methods to hand-bake their classic Devonshire scones.
Sutton Lucy Clotted Cream 200g - Whether you're enjoying it with a scone, sticky toffee pud or just on its own straight from the spoon...you can't beat a generous helping of fresh clotted cream from our amazing dairy farmers here in Devon.
A small, independent family-run dairy in Honiton, Sutton Lucy Dairy is run by Rebecca and Philip Cooke. Their two herds of cows, made up of Holstein and Jersey breeds, produce wonderfully fresh Devon milk and rich Devon cream only 20 miles down the road!
Buxton Lemon and Elderflower Cake - For almost 10 years, the team at Buxton Pudding Company have been handcrafting delicious cakes and puddings in Derbyshire, using only traditional methods and only the best ingredients. There awarding winning loaf cakes are truly heavenly!