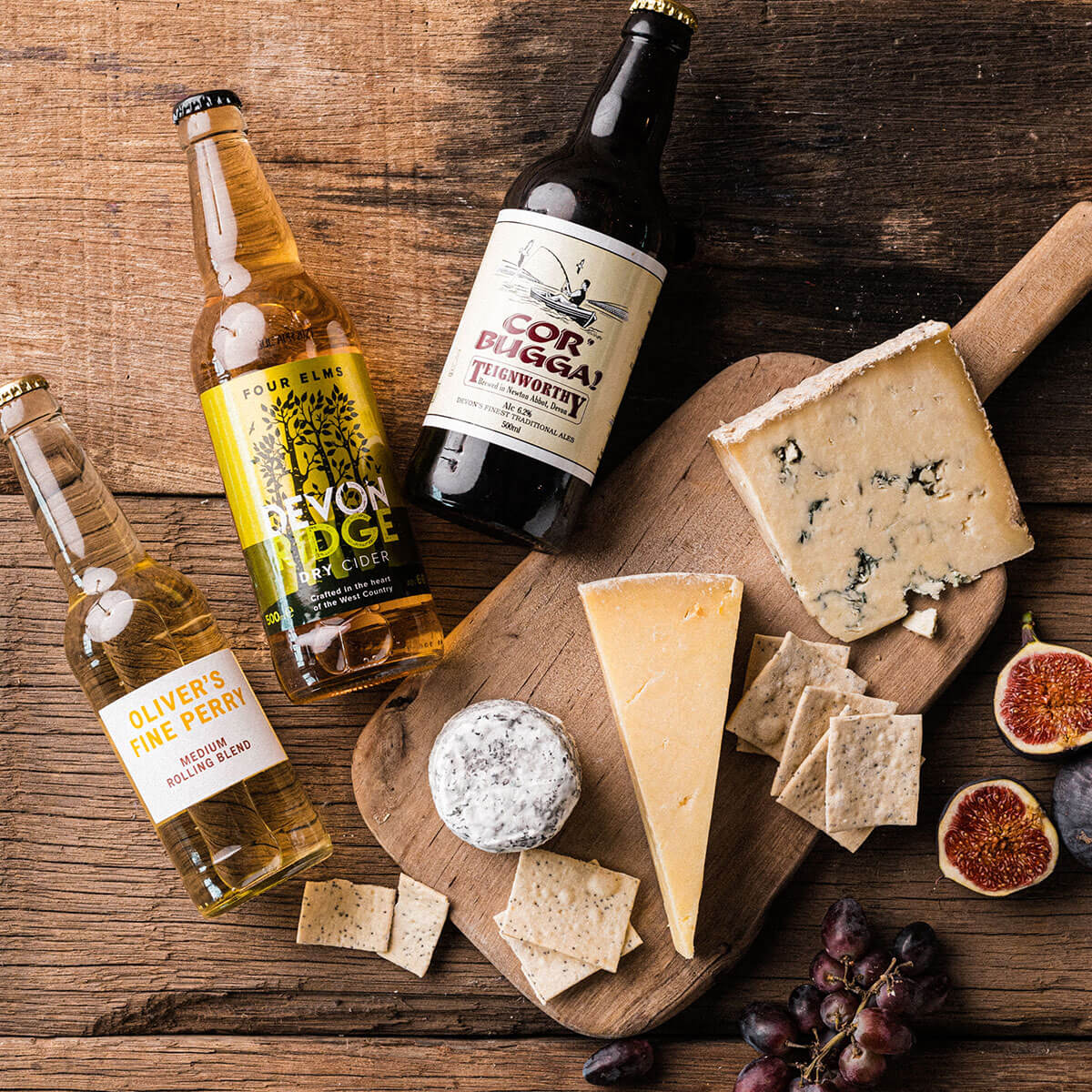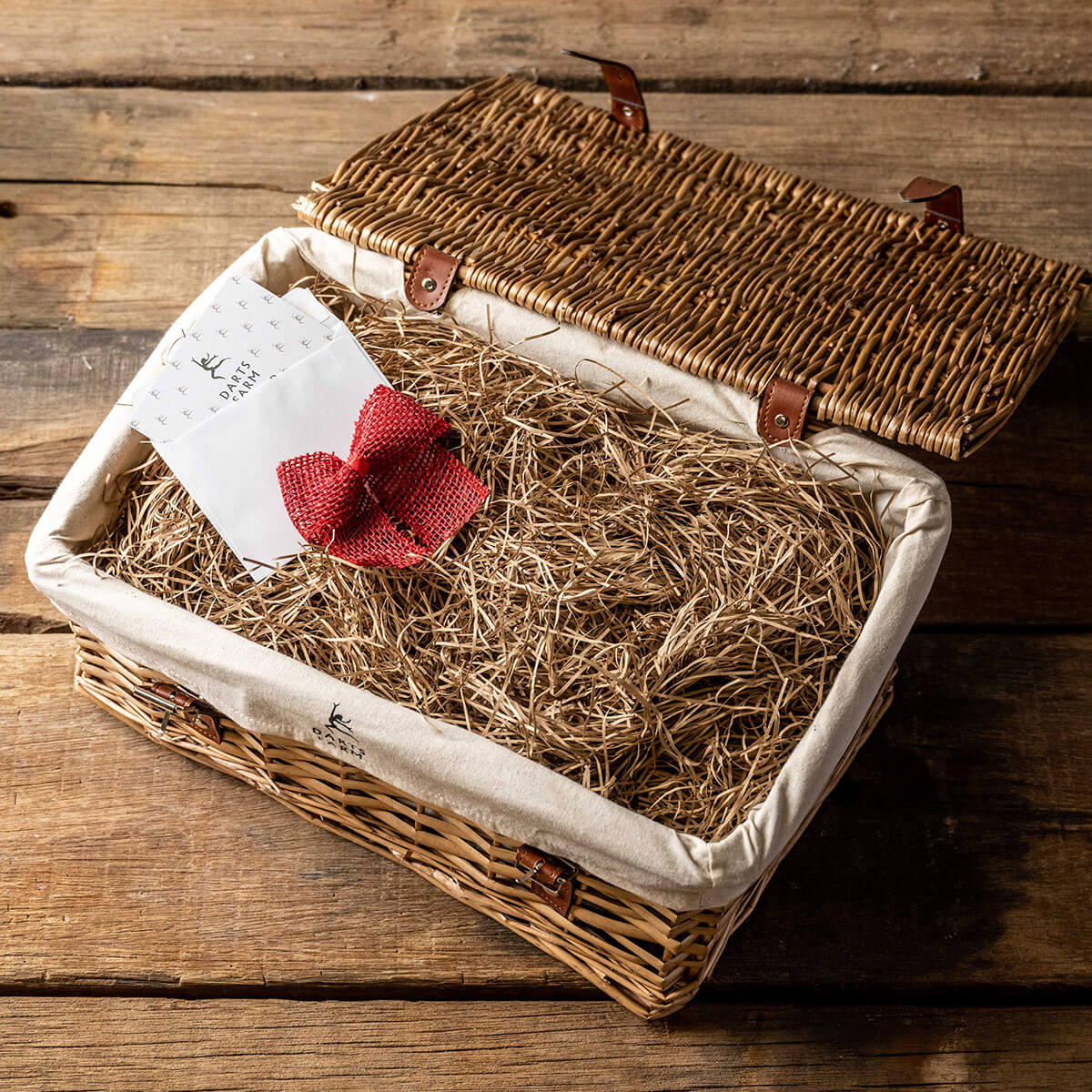 The Cheese Connoisseur Hamper
£55.00 each
Discover Neal's Yard Creamery's Dorstone with Oliver's Rolling Blend Perry, Stichelton with Teignworthy's Cor Bugga Bottle Conditioned Ale and some Montgomery Cheddar alongside Four Elms Devon Ridge Dry Cider for an eclectic tasting experience! 
Products come in a Darts Farm branded wicker hamper.
Read Full Product Information
You hamper will include…
Four Elms Devon Ridge Cider – Dry 6.8% Vol Produced by the Smedley family at Four Elms Apple Farm, in Newton Poppleford, Devon. The family handcraft their cider on a very small-scale using apples from the Devon orchards that were originally planted for Green Valley Cyder here at Darts Farm. This lightly sparkling cider is rich with a high tannin which gives a full aroma, it is a satisfying, good length drink that is a perfect match for cheddar cheese.
Oliver's Rolling Blend Perry - Nicknamed the Godfather of the Fine Cider Movement, Tom Oliver applies a lifetime of experience with centuries of cidermaking tradition to craft some of the world's greatest ciders and perrys on his farm in Herefordshire. After pioneering wild yeast fermentation, Tom has experimented with numerous barrel aging methods and collaborated with some of the world's most iconic craft brewers and cidermakers. This perry is fruity, with hints of citrus and elderflower mingle with honeyed sweetness and a gentle sparkle. Drinks great straight from the fridge.
Teignworthy Cor Bugga Real Ale - Heather and John brew all of their ales in Newton Abbott; using traditional methods and locally sourced ingredients. Teignworthy Brewery is based on a 'Tower' principle as used in the Victorian era. This means that the malt is infused with hot liquor to make malt extract, this is in turn boiled with traditional English hops. Cor Bugga! is a warming ale, with flavours of port and a mahogany/rosy hue.
Stichelton 200g - Raw milk stilton-recipe blue cheese had been extinct for 18 years, until in 2006 when Joe Schneider and Neal's Yard Dairy founder Randolph Hodgson embarked on a journey to challenge preconceptions of the traditional British blue. The special protected status of Stilton stipulates that it must be made with pasteurised milk, however the process of treating that milk removes a bounty of good microbes that give the cheese unique flavours. Joe uses only raw milk from the morning milking, very little starter culture, natural rennet and a very long make, 24 hours, allowing the natural flora in the milk to bring out the flavours. The curds are hand ladled, which gives a more delicate texture. Similar care is taken with maturing. Perhaps most importantly, each cheese is tested for ripeness before it leaves the maturing room. There can be a great deal of variation in how the cheese tastes from batch to batch, with Joe aiming for consistently of quality over consistency of flavour.
Dorstone 200g - Charlie Westhead is one of Britain's pioneering cheesemakers, leading the way in the renaissance of farmhouse production. After working for Neal's Yard Dairy in the 1980's, Charlie evolved from cheesemonger to cheesemaker. This particular cheese, Dorstone, is named after the picturesque village that overlooks the River Wye in Hereford. It is made with pasteurised goat's milk, natural rennet and takes the shape of a turret. Charlie tastes and selects each batch that ends up in our cheese counter, after being carefully matured by Neal's Yard Dairy in Bermondsey.
Montgomery 200g - Made by Jamie Montgomery in Somerset using raw cow's milk & natural rennet. The Montgomery family have been farming the North & South Cadbury pastures for three generations, to make their delicious Montgomery Cheddar. Part of village daily life is seeing Jamie's 200 Friesian cows coming in from the fields ready for milking. His small team help him to care for the animals in the best way they can, which in turn produces the best tasting cheese. Most cheeses are then matured for 12 months wrapped in muslin cloth on wooden shelves. Some are even matured for 18 months for that extra special Montgomery's Cheddar, it is the epitome of traditional, handmade, unpasteurised Somerset cheddar. Its deep, rich, nutty flavours have won worldwide acclaim and will continue to do so under the pride and attention of the Montgomery Family.
*At times hamper contents may vary due to stock availability, but items will be replaced with products of the same or higher value and quality.
Caring for & storing your cheese
Your cheese has been cut & wrapped to order
Keep wrapped in wax paper
Refrigerate on receipt
Best within 14 days
Delivery Information
Nationwide delivery:
Wednesday & Friday £7.95 UK Standard Delivery Charge (per order)
Excluding some post codes; Delivery | Darts Farm
Gift messages may be added at check-out
Collection from Darts Farm is free - choose Collection at checkout.
Sustainable Packaging
A

ll of our hampers are packed carefully with all products laid flat and covered in shredded paper. This is to ensure that they are equipped for transportation and arrive with you safely.
Woolcool liners
Non-toxic re-usable gel packs
Darts Farm branded recyclable cardboard box, made in the UK
More information here:

Sustainably Driven Hampers! | Darts Farm