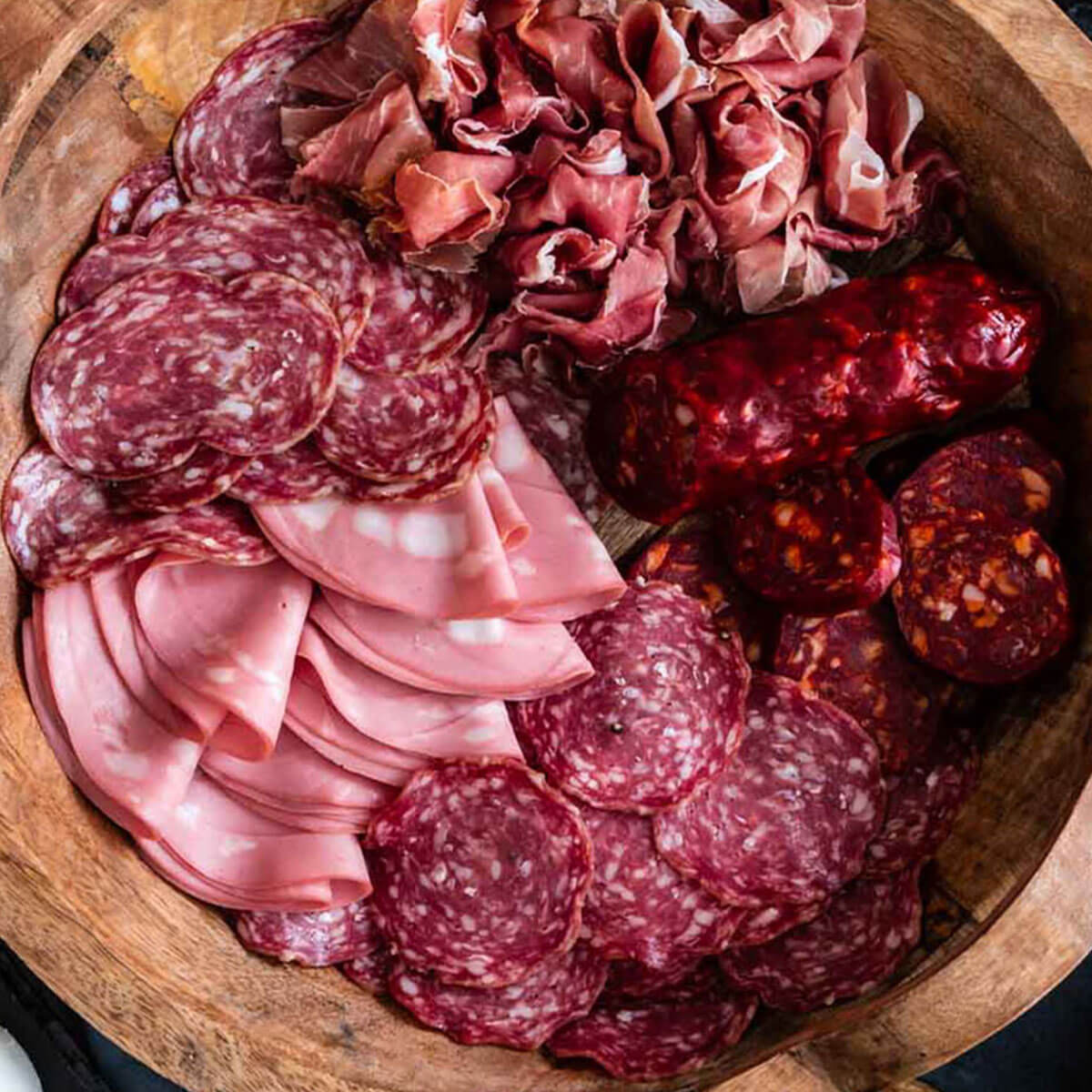 'Sharecuterie' Tasting Hamper
£29.00 each
This selection of delicious charcuterie, from our incredible local artisans, is perfect for sharing with the whole family! 
READ FULL PRODUCT INFORMATION
Your ''Sharecuterie' Tasting Experience' box will include...
Good Game
Founders, Pete, Jim and Steve, handcraft their award-winning cured meats just a few miles down the road in Topsham; using just salt, the natural Exe Estuary air and locally sourced meat.
Coppa Ham - This is a classic Italian style air dried ham from the top loin of the pig. Dry cured then put into a casing and hung for at least 8 weeks. Simply delicious!
Capreolus Fine Foods
Capreolus is an award-winning family owned English artisan charcuterie producer in Rampisham, West Dorset. David and Karen craft their amazing charcuterie using only meat reared locally in the West Country; from traditional and rare breeds wherever possible creating a wonderfully delicate and distinguished flavour.
Dorset Rosette - Inspired by the famous Rosette de Lyon salami this salami is made with free-range Dorset pork seasoned with salt, black pepper, garlic and a classic French blend of spices called Quatre Epices. Perfect with a spicy red wine like a Syrah from the Rhone
Somerset Charcuterie
Using outdoor and locally reared Saddleback, Oxford Sandy & Black & Tamworth pigs, the team embrace traditional Italian and Spanish methods combined with some of the fantastic flavours and rich food culture of the West Country, sourcing other local ingredients such as cider, sage, cheese, goat, duck and wild garlic from Somerset producers.
Black Pepper & Garlic Salami - Whole back telicherry peppercorns and freshly crushed garlic compliment the natural flavour of the local outdoor reared pork.
Air-Dried Free Range Duck - Simply cured to capture & enhance the natural flavour of the free range duck and hung from the wooden frame of their drying room for 3-4 weeks.
Lonza - Made from a whole loin of local outdoor reared pork. Flavour toasted telicherry pepper and juniper berries before air-drying 4 weeks. Delicious, light & lean.
Sorry this product is SOLD OUT