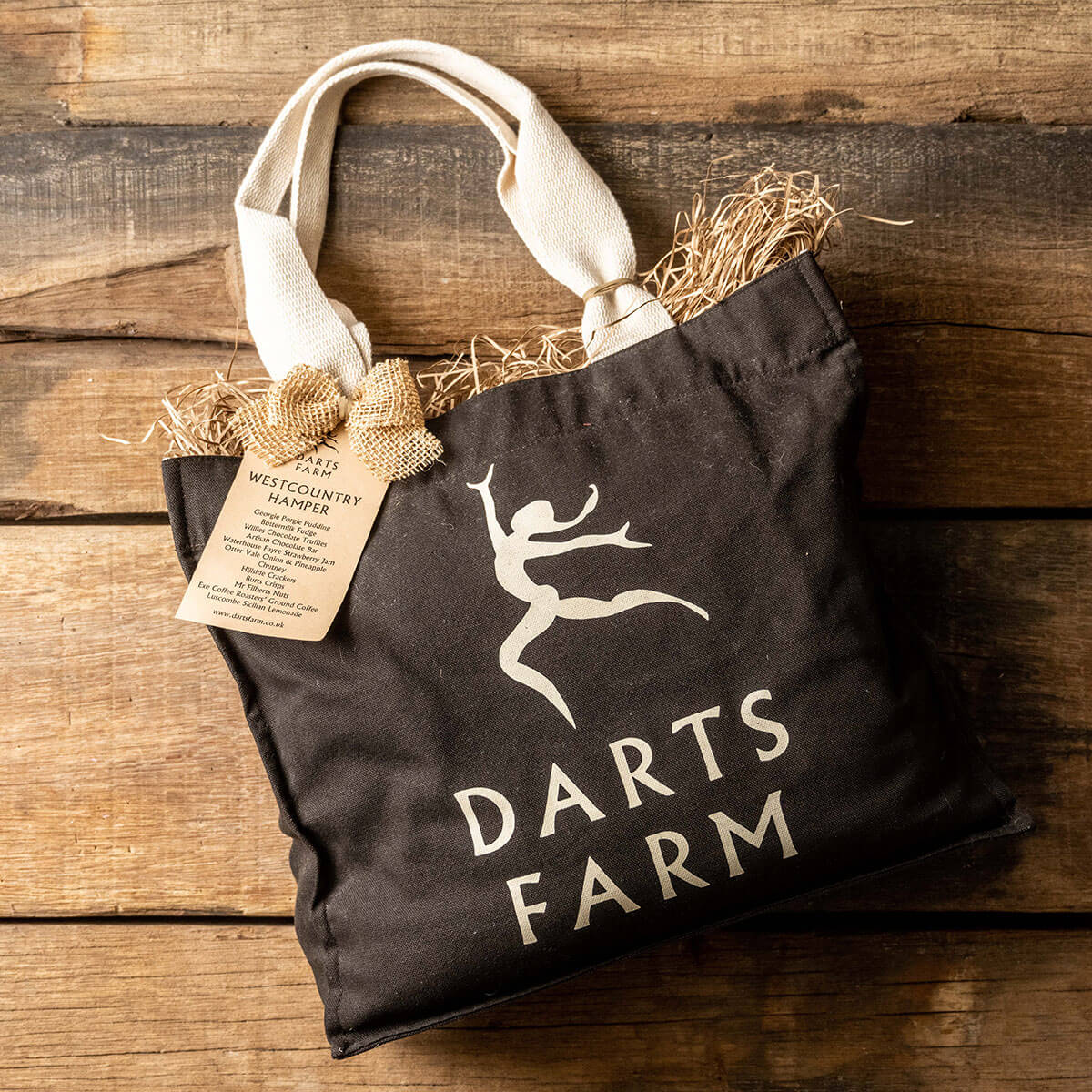 Picnic Hamper
£59.00 each
When the sun is shining, there is nothing better that an adventure with a beautiful picnic. This hamper is perfect for birthdays, anniversaries and treating your loved one on a special occasion.

You can add some sparkle to the hamper with a bottle of fizz here
HAMPER OPTIONS: Please choose wicker hamper, canvas bag or branded card box in the options below. Thank you!
Read full product details
Using pork locally reared by Tom Lockwood of Lashbrook Farm, Talaton, our deli team coat the ham joint with natural honey and cloves and roast until juicy and golden brown.
Made by Jean, Martin & the team at Deli Farm, Cornwall. The Coppa joint, which runs through the shoulder from the base of the neck to the top of the loin, is dry cured and slowly air-dried.
Vicky's Bread Bordelaise Loaf
Vicky Harford produces slow rise, French style, artisan sourdough breads which take great skill to prepare. The natural fermentation of the sourdough cultures need to be carefully replenished every day to create her incredible bordelaise loaf.
The Olive Branch Antipasti 250g
Based in the Haldon Hills, the Olive Branch has been supplying Darts Farm with top quality olives, sun dried tomatoes and antipasti for over 15 years. Using their own recipes, Sue and her small team believe in using traditional methods and natural curing to make their delicious products. Their incredible antipasti uses a classic Italian recipe - artichokes, olives, feta cheese, sun dried tomatoes, onions, cornichons, sweet peppers and garlic coated in olive oil, balsamic vinegar and herbs.
Willies Cacao Milk Chocolate Praline Truffles with Sea Salt (4 pack)
Willie Harcourt-Cooze, artisan chocolate expert, is the only British chocolate producer to import and roast his own raw cacao beans to create award-winning confectionary. Carefully overseeing every stage, from growing & specially selecting the beans on his Venezuelan farm to slowly roasting them in his factory in Willand, Cullompton, Willie makes chocolate that is an absolute treat for the palate!
Luscombe Sicilian Lemonade 27cl x2
Based in South Devon, Gabriel David and his family have been crafting these delicious organic drinks for 45 years. By sourcing ingredients only from growers they know and trust they can guarantee that only the best goes into their bottles.
Raw milk stilton-recipe blue cheese had been extinct for 18 years, until in 2006 when Joe Schneider and Neal's Yard Dairy founder Randolph Hodgson embarked on a journey to challenge preconceptions of the traditional British blue. The special protected status of Stilton stipulates that it must be made with pasteurised milk, however the process of treating that milk removes a bounty of good microbes that give the cheese unique flavours and make it identifiable to a particular time and place. Joe uses only raw milk from the morning milking, very little starter culture and a very long make, 24 hours, allowing the natural flora in the milk to bring out the flavours. The curds are hand ladled, which gives a more delicate texture. Similar care is taken with maturing. Perhaps most importantly, each cheese is tested for ripeness before it leaves the maturing room. There can be a great deal of variation in how the cheese tastes from batch to batch, with Joe aiming for consistently of quality over consistency of flavour.
On the glorious Sharpham estate, nestled amongst the banks of the River Dart near Totnes, Mark Sharman and his team take fresh raw milk from their herd of Jersey cows and apply it to a recipe that's been unique to the creamery since 1981. The curds are hand ladled into moulds, turned regularly and then brined and left to develop a furry white coat. The end result is a Coulommiers style mould ripened soft cheese that is often likened to a Brie. When ripe, Sharpham oozes a creamy rich and buttery interior that is often imitated but never bettered. Mark often joins us here at Darts Farm to share his knowledge and passion for artisan cheese and English wine.
Kirkham's Lancashire 200g
As the last remaining producer of traditional Lancashire in Britain - Graham Kirkham is the third generation to make cheese from his family's small herd of Friesian cows in Goosnargh. Using raw milk, they practice a traditional two-day curd method which originates from a time when farmers couldn't produce enough milk to fill a cheese mould in one day. The cheese is then wrapped in muslin cloth and traditionally buttered. We source this cheese from Neal's Yard Dairy, who visit Graham regularly to carefully select each 6-week-old cheese. Neal's Yard then mature the cheese for 10 months in their Borough Market shop.
ADD SOME SPARKLE TO YOUR PICNIC
Pebblebed Sparkling Rose £29
Crafted by our head wine maker, Alex, on our farm. using the traditional Champagne method, with a minimum of two years on lees (fermenting). The blend of Seyval Blanc & Rondo grapes make for a wonderful salmon pink colour, delicate red berry & rose petal flavours, balancing the fresh acidity.
*At times hamper contents may vary due to stock availability, but items will be replaced with products of the same or higher value and quality.
Delivery
Nationwide delivery:
Wednesday & Friday £7.95 UK Standard Delivery Charge (per order)
Excluding some post codes; Delivery | Darts Farm
Gift messages may be added at check-out
Collection from Darts Farm is free - choose Collection at check-out.
Sustainable Packaging
A

ll of our hampers are packed carefully with all products laid flat and covered in shredded paper. This is to ensure that they are equipped for transportation and arrive with you safely.
Darts Farm branded recyclable cardboard box, made in the UK
More information here: Sustainably Driven Hampers! | Darts Farm
Caring for & storing your cheese
Your cheese has been cut & wrapped to order
Keep wrapped in wax paper
Refrigerate on receipt
Best within 14 days