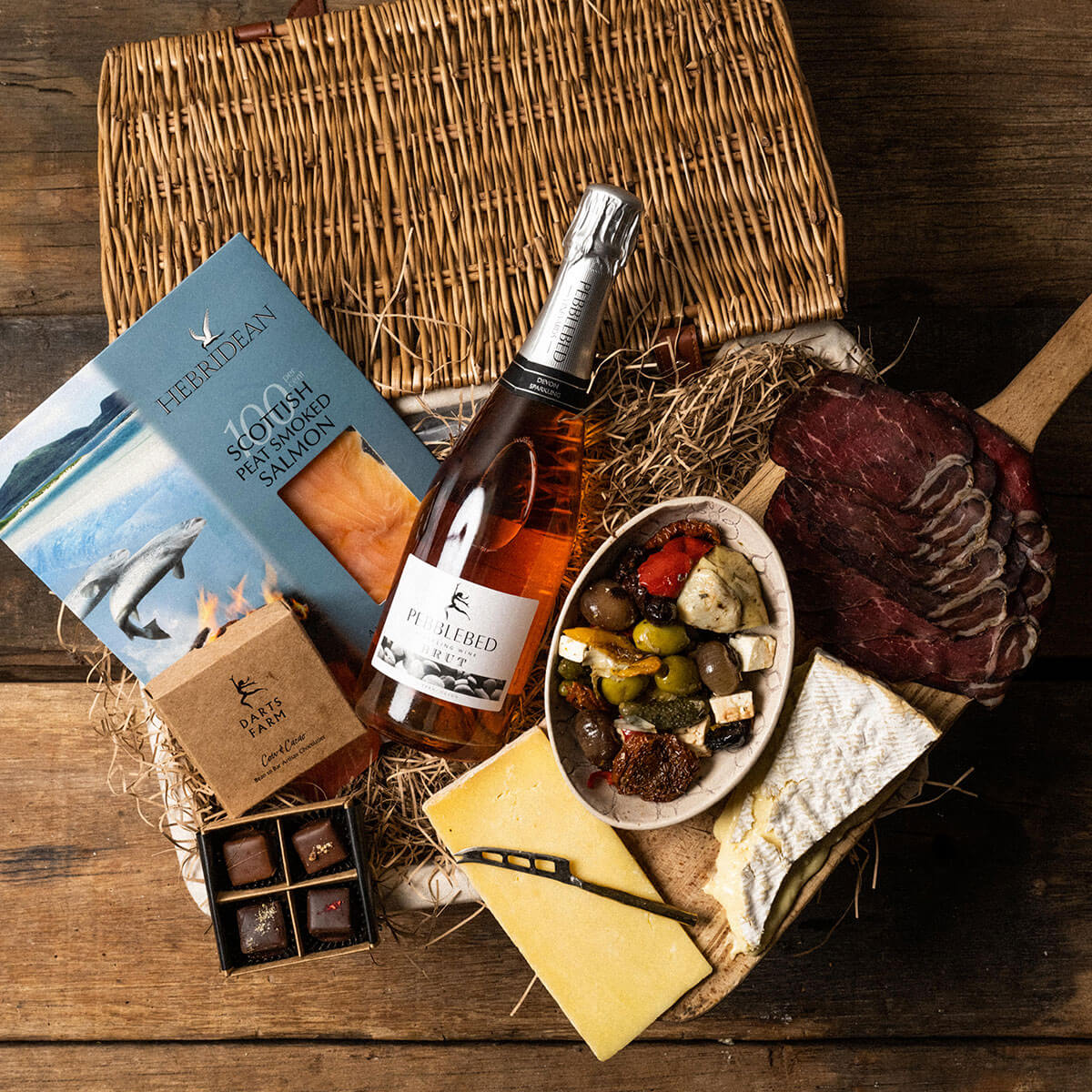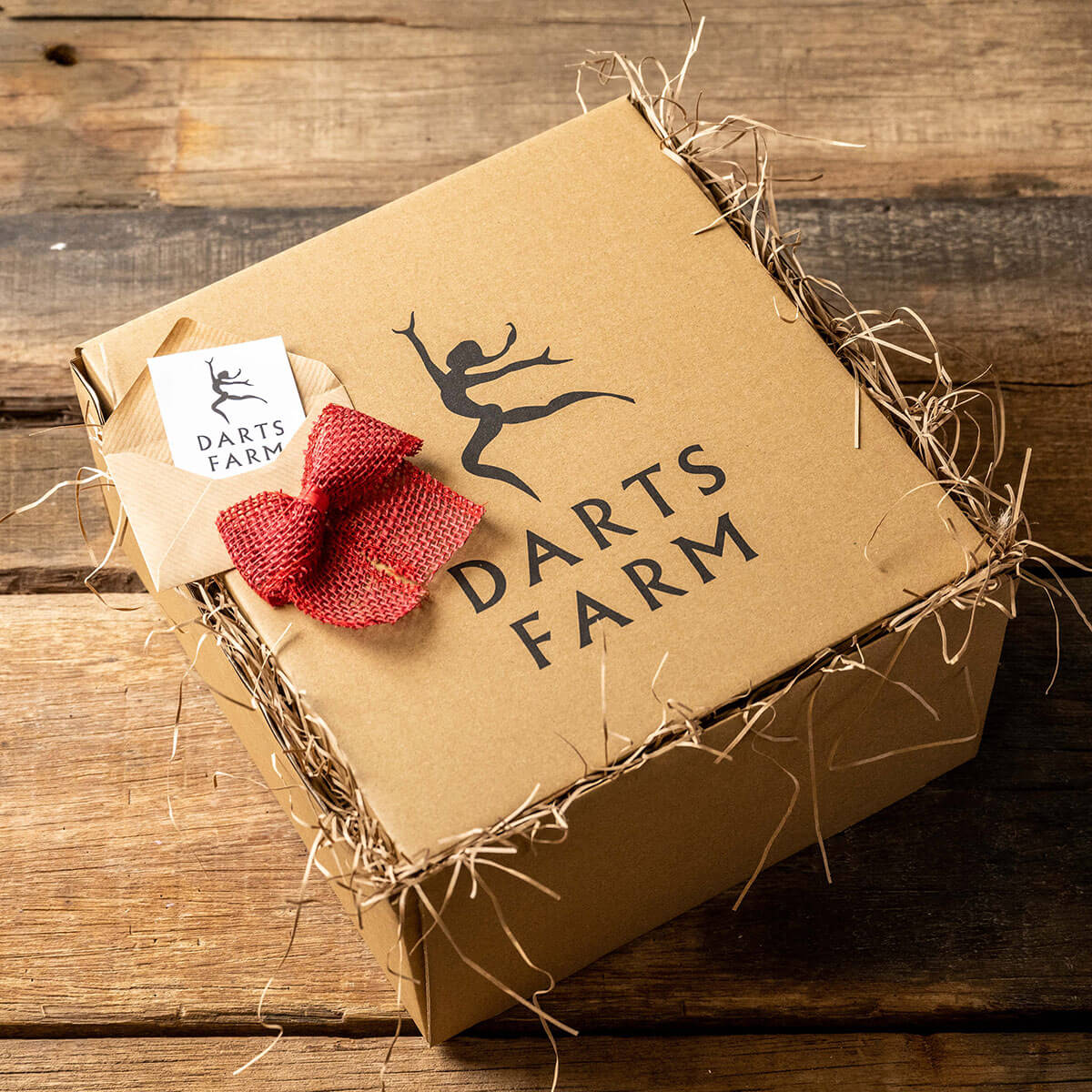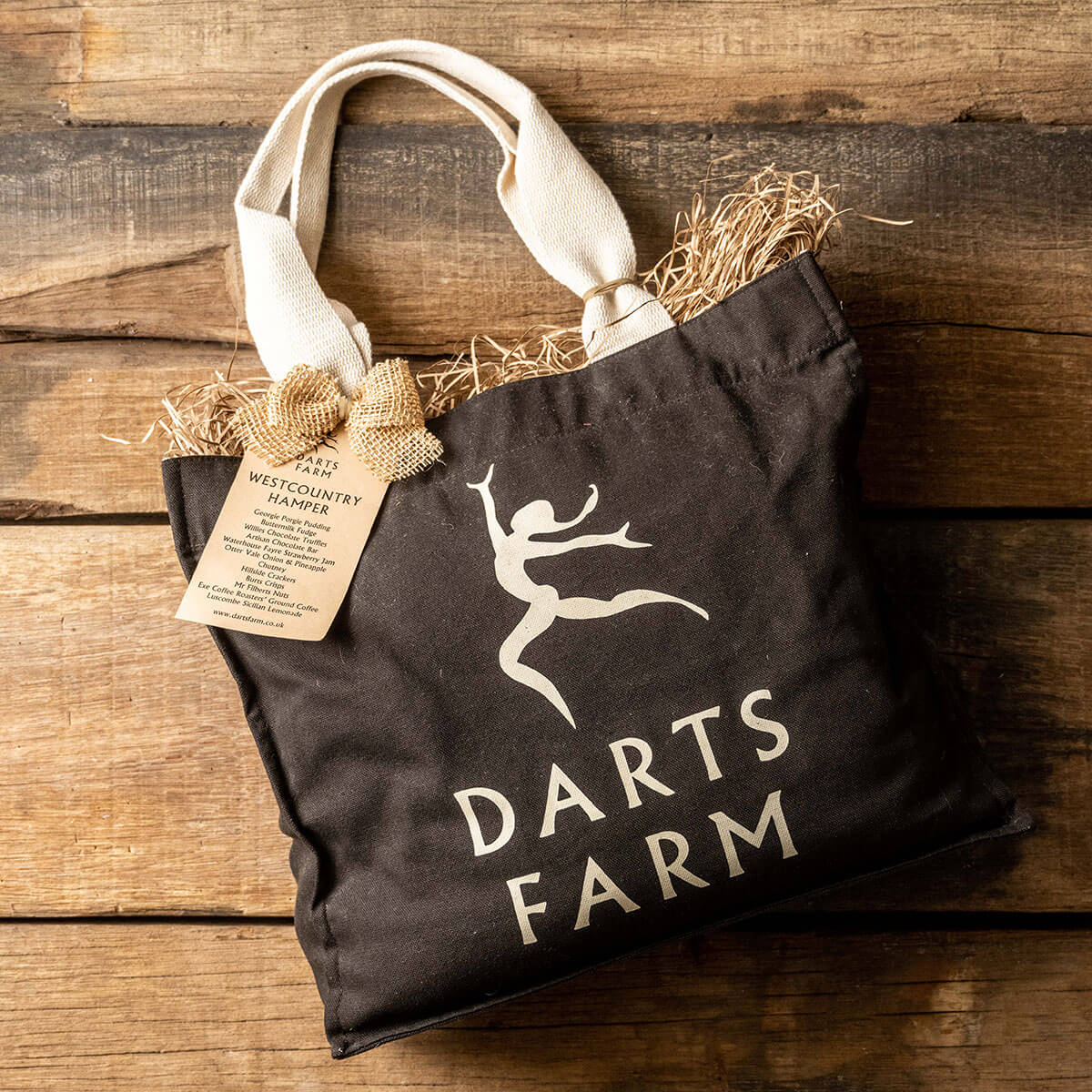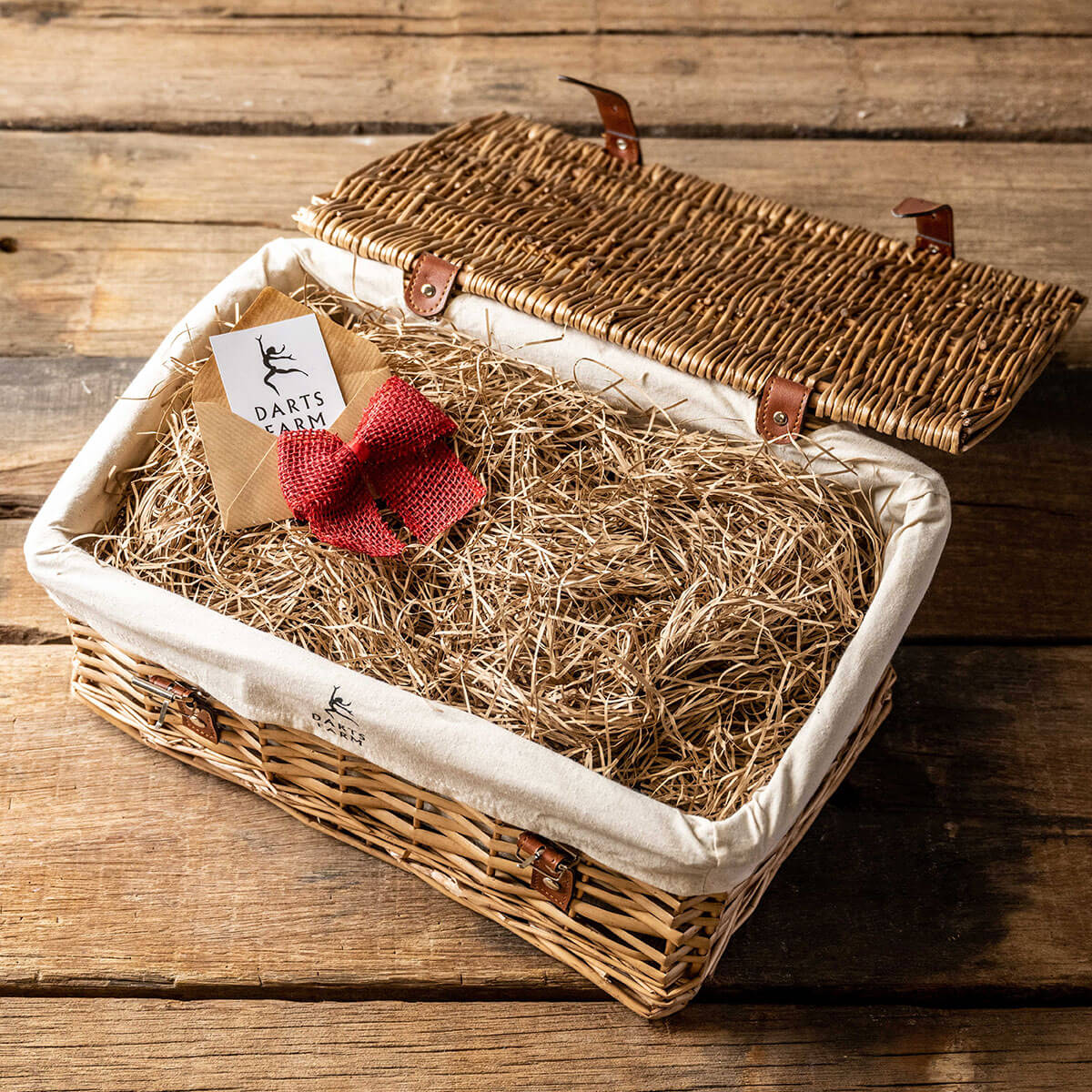 Fizz & Perfect Pairings Hamper
£79.00 each
You can't beat a glass of our award-winning Sparkling Rose from our Pebblebed Vineyards, paired with some of our favourite farmhouse cheeses & artisan charcuterie from our deli counter... and a box of our homemade truffles to finish of course!
HAMPER OPTIONS: Please choose wicker hamper, canvas bag or branded card box in the options below. Thank you!
Read full product details
Crafted by our head wine maker, Alex, on our farm. using the traditional Champagne method, with a minimum of two years on lees (fermenting). The blend of Seyval Blanc & Rondo grapes make for a wonderful salmon pink colour, delicate red berry & rose petal flavours, balancing the fresh acidity.
Something truly special. Johnny Crickmore and his team at Fen Farm Dairy make the only traditional raw milk Brie-de-Meaux style cheese in the UK. In fact, there are only a handful of its type in the world, where the cheese is made on the farm by the farmer – even the French are jealous! The cheese is made by hand in small batches, very early in the morning so that they can use the raw milk still warm, straight from the cow at the perfect temperature for cheesemaking. The mould cultures are added to the warm morning's milk and it is gently gravity fed into small vats just a few metres from the milking parlour, where the rennet is added. The curds are carefully hand-ladled into large moulds, using traditional pelle-a-brie ladles and the young cheeses are hand salted and then aged for up to 8 weeks in a cave-like environment. Baron Bigod is truly unique to Johnny's farm. Its flavours, aromas and characteristics are influenced by the Montbeliarde cow's milk and the rich variety of grasses and herbs that grow on the grazing land of Stow Fen. Raw Cow's Milk, Natural Rennet
Tom Calver & his team as Westcombe are on a mission to produce incredible cheese & charcuterie in a fully circular, regenerative system. It is one of the UK's great historic clothbound cheddars, however over the last couple years, Tom has been making incredible changes to their farm to increase biodiversity above and below the ground. The benefits of farming more in harmony with nature can be tasted in the resulting cheese, with beautifully savoury complex flavours coming through from the rich raw milk.
Steve & Pete handcraft their award winning cured meats just 100 meters from us here at Darts Farm. They source high quality, ethically raised & locally reared meat, and then apply their years of experience and passion to create unique and iconic charcuterie. Their incredible Bresaola is crafted using air-dried silverside from our own Darts Farm Ruby Red beef, with salt, garlic, pepper, rosemary, juniper, bay and red wine.
Hebridean Smoked Salmon 125g
Fergus and Anne Granville produce a peaty smoked salmon quite unlike anything else we've tasted. Using locally cut peat with beechwood, and fish from the pristine Hebridean waters, this smokery is unique and their hand-prepared salmon is a must to taste!
Based in the Haldon Hills, the Olive Branch has been supplying Darts Farm with top quality olives, sun dried tomatoes and antipasti for over 15 years. Using their own recipes, Sue and her small team believe in using traditional methods and natural curing to make their delicious products. Their incredible antipasti uses a classic Italian recipe - artichokes, olives, feta cheese, sun dried tomatoes, onions, cornichons, sweet peppers and garlic coated in olive oil, balsamic vinegar and herbs.
Cow & Cacao Box of 4 Handcrafted Truffles
We are proud to be one of the few UK producers to craft chocolate from bean to bar. First, we source incredible cacao from small scale growers in rare origins around the world. Once the sacks land at Darts Farm, our lengthy six stage process begins. In small batches, Chocolatier Louise carefully roasts, cracks and then grinds the cacao in the 'conche', for up to 55 hours before aging our chocolate in 5kg bricks for 2-3 weeks. Finally, we melt it down to create bars, truffles & all things chocolate!
Please note, our truffles are handcrafted using fresh ingredients meaning they have a 4 week shelf life. Please bare this in mind when selecting your delivery date.
*At times hamper contents may vary due to stock availability, but items will be replaced with products of the same or higher value and quality.
Delivery
Nationwide delivery:
Wednesday & Friday £7.95 UK Standard Delivery Charge (per order)
Excluding some post codes; Delivery | Darts Farm
Gift messages may be added at check-out
Collection from Darts Farm is free - choose Collection at check-out.
Sustainable Packaging
A

ll of our hampers are packed carefully with all products laid flat and covered in shredded paper. This is to ensure that they are equipped for transportation and arrive with you safely.
Darts Farm branded recyclable cardboard box, made in the UK
More information here: Sustainably Driven Hampers! | Darts Farm