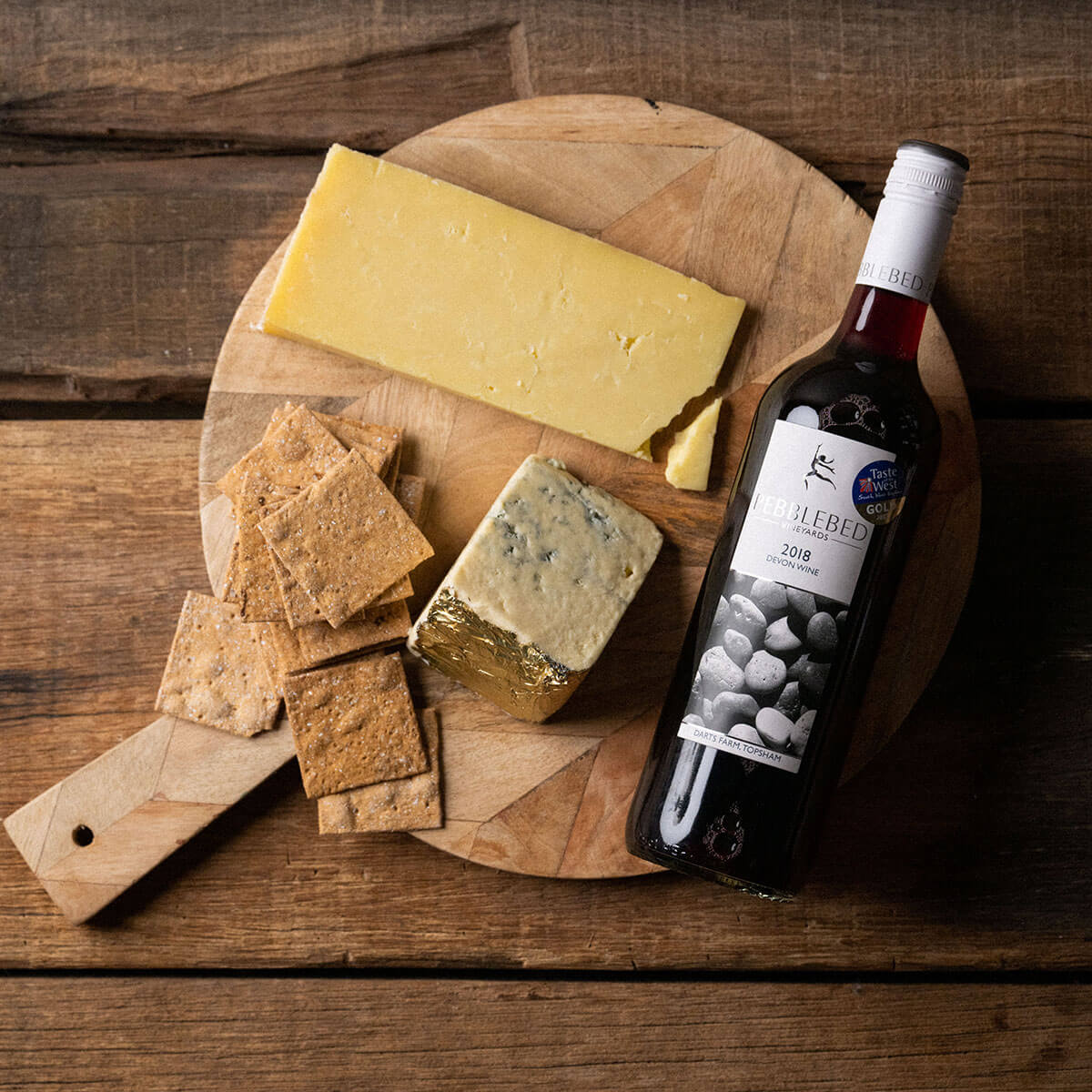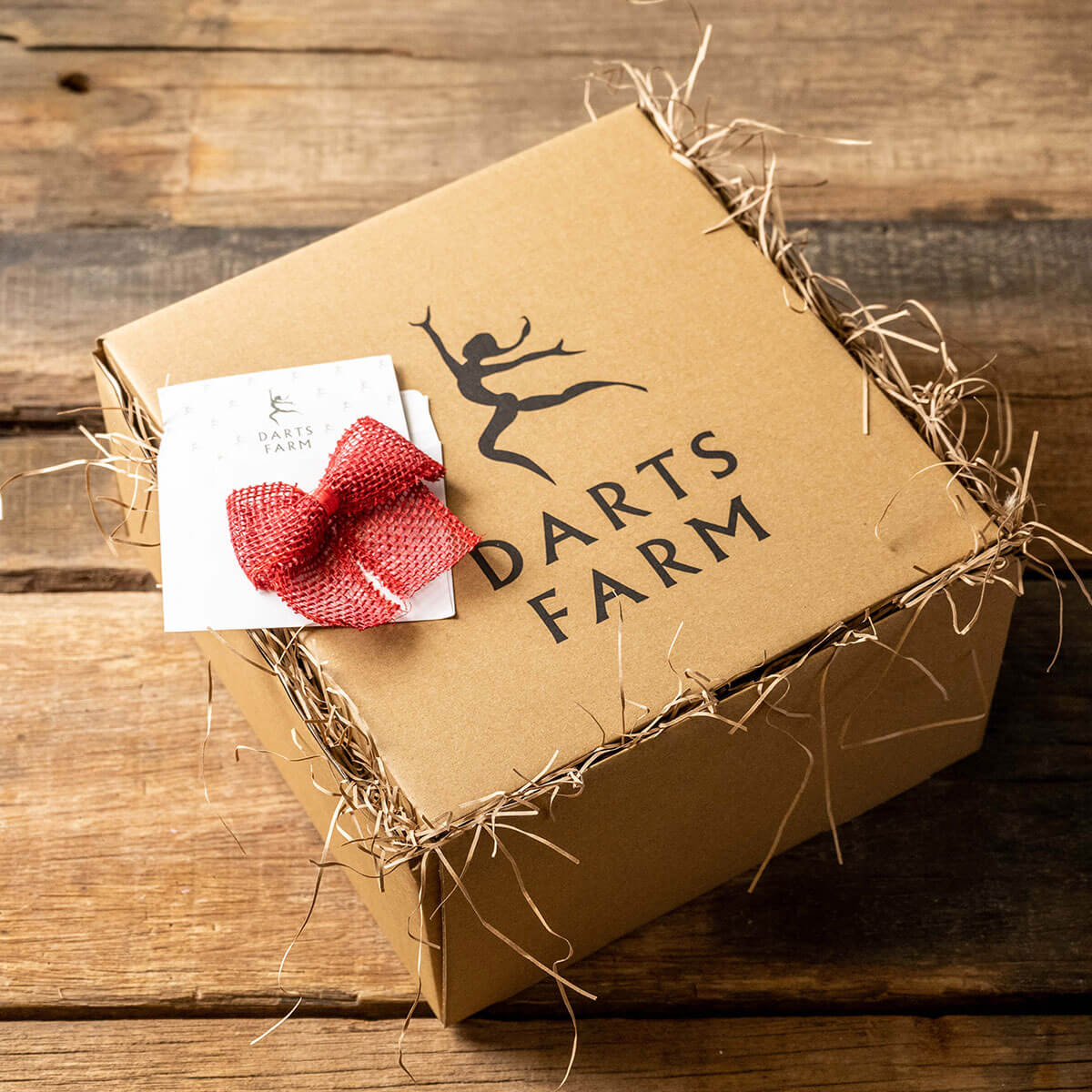 Cheese & Red Wine Night Hamper
£39.00 each
Perfect for a night in or a special occasion, British farmhouse cheese paired with our Pebblebed Red crafted at our vineyard here on the farm.
Your hamper includes; 
Devon Blue (Minimum 200g)
Quickes Mature Cheddar (Minimum 200g)
The Fine Cheese Co Crackers
Pebblebed Red
Read Full Product Details
Devon Blue (Minimum 200g)
Our friend Ben Harris from Ticklemore Dairy near Totnes uses milk from dairy cows farmed within 10-miles of him. He follows a traditional Roquefort recipe; however, the resulting cheese has a style of its own. Devon Blue is renowned for it's creamy, rich and buttery taste and often has delicate blue veining throughout and a crumbly texture. Earlier this year, we visited Ben to taste through various batches made using different starter cultures to establish a flavour profile unique to Darts Farm. Ben regularly joins us at Darts Farm to share his passion and talk all things cheese. Pasteurised Cow's Milk & Vegetarian Coagulant.
Quickes Mature Cheddar (Minimum 200g)
If there's any cheese that truly represents the taste of Devon it's Quickes. The Quicke family have been stewards of 'Home Farm' in Crediton for almost 500 years, with Mary Quicke now holding the mantle and pioneering the way in farmhouse cheddar production. Mary's cheese is metaphorical of her ethos 'farm as if you're going to live forever', and with generations of experience and craftmanship behind her, she is able to capture the best expression of the grass, soil and seasons. Each day, once their unique herd of dairy cows have been milked, the cheese is 'started' with a live-culture that has remained unchanged for years and encompasses the biodiversity of the farm. A natural rennet is then added to separate the curds from the whey and the cheddaring process begins. The cheeses are then matured for up to two years in their 'Cathedral of Cheese', where they are carefully monitored and turned every 10 days. Our relationship with Quickes goes back to when Mary used to sell cheese to our mother, Enid, many decades ago! Pasteurised Cow's Milk & Natural Rennet.
The Fine Cheese Co Crackers
With over 20 years experience in the cheese industry founder, Ann-Marie Dyas, and her team at Fine Cheese Co. are committed to the survival of British cheese-makers, and introducing farmhouse cheeses to as wide a public as possible. Their love of cheese extends further into producing delicious cheeseboard accompaniments, which are handcrafted in Bath, using only the finest ingredients.
Crafted on our farm by our head winemaker; Alex.
Pebblebed Red is a blend of Rondo, Regent and Pinot Noir. A proportion of this wine is matured in Burgundy oak barrels for up to 12 months, adding depth and complexity to the wine prior to bottling.
A deep ruby-purple colour, spice and herbal hints on the nose, cherry and plum fruits on the palate and a chocolatey finish with smooth tannins.
*At times hamper contents may vary due to stock availability, but items will be replaced with products of the same or higher value and quality.
Caring for & storing your cheese
Your cheese has been cut & wrapped to order
Keep wrapped in wax paper
Refrigerate on receipt
Best within 14 days
Delivery Information
Nationwide delivery:
Wednesday & Friday £7.95 UK Standard Delivery Charge (per order)
Excluding some post codes; Delivery | Darts Farm
Gift messages may be added at check-out
Collection from Darts Farm is free - choose Collection at checkout.
Sustainable Packaging
A

ll of our hampers are packed carefully with all products laid flat and covered in shredded paper. This is to ensure that they are equipped for transportation and arrive with you safely.
Woolcool liners
Non-toxic re-usable gel packs
Darts Farm branded recyclable cardboard box, made in the UK
More information here:

Sustainably Driven Hampers! | Darts Farm