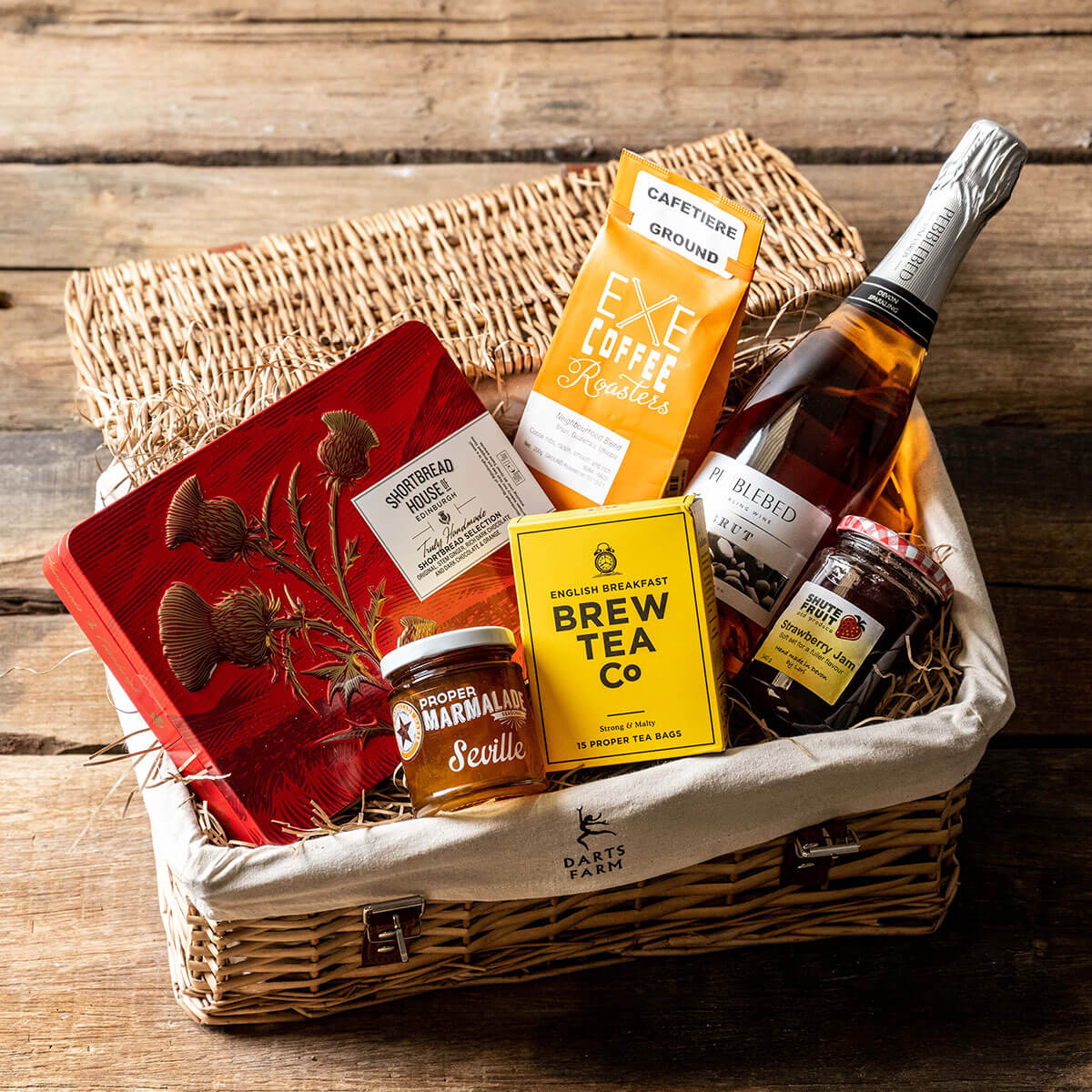 House Warming Hamper
£69.00 each
This hamper is full of all the artisan produce needed to make a house of home; from homemaking essentials such a tea and biscuits, to zesty marmalade and sweet jam for that first breakfast!
Hamper options: Please select from a beautiful branded wicker, cloth bag or card box in the drop down.
Please note, all of our hampers are packed carefully with all products laid flat and covered in shredded paper. This is to ensure that they are equipped for transportation and arrive with you safely.
Read Full Product Information
Your hamper will include:
Pebblebed was founded by our dear friend and neighbour, Geoff Bowen, in 1999 as a sustainable, small vineyard just over the hedge from Darts Farm here in Devon. Geoff sadly passed a few years ago, but wished for Pebblebed's legacy to continue as part of the Darts Farm family. The day-to-day running of the 22 acre vineyard and making of the wine continues under the expert hands of head wine maker, Alex, who has been part of the Pebblebed team for nearly 10 years.
Crafted using the traditional Champagne method, with a minimum of two years on lees (fermenting) in the Pebblebed cellars, before the sediment is removed in the winery. The blend of Seyval Blanc and Rondo grapes make for delicate red berry and rose petal flavours, balanced with a fresh acidity.
Exe Coffee Neighbourhood Blend
Our friend Steve at Exe Coffee lightly roasts 100% Arabica beans; retaining natural fruitiness and maximum flavour. Their custom built in-house roaster, enables the team to constantly monitor the temperature of the beans to achieve incredible flavours of biscotti, black cherry and dark chocolate. For many years they have been perfecting their much loved 'Neighbourhood Blend', an incredible espresso that is rich in body with a flavour that really shows the best that coffee has to offer.
Proper Marmalade Company Seville Marmalade
'Queen of Condiments' Victoria Cranfield, the artisan behind the multi award-winning Proper Marmalade Company, hand-crafts all of her delicious marmalade in Ilfracombe, North Devon. All of their incredible marmalades are 100% handmade in small batches, using locally sourced fresh fruit. You cannot beat the sharp and superior orange flavour of their Seville marmalade on a fresh slice of sourdough or a croissant fresh from the oven.
Shute Fruit Strawberry Jam
Using traditional recipes, family secrets and contemporary innovations, Lori handmakes her delicious range of preserves in her farmhouse kitchen. She uses fresh own grown produce from her husband's fruit farm in Teignmouth to create her 'award-winning' tastes.
Brew Tea English Breakfast Tea (15 Bags)
Only hand-picked, rolled, whole-leaf tea goes into every batch of Brew Tea.
Using years of attained knowledge and the highest quality tea leaves, Aideen & Phil have created their amazing, unique blends; each one is crafted, tested and hand-packed at Brew HQ - they even make their own tea bags!
House of Edinburgh Shortbread Tin
A small, family-run business from Edinburgh, who specialise in traditional shortbread. Made by a small team of skilled bakers, they use the highest quality ingredients to produce its distinctive light texture and rich taste.