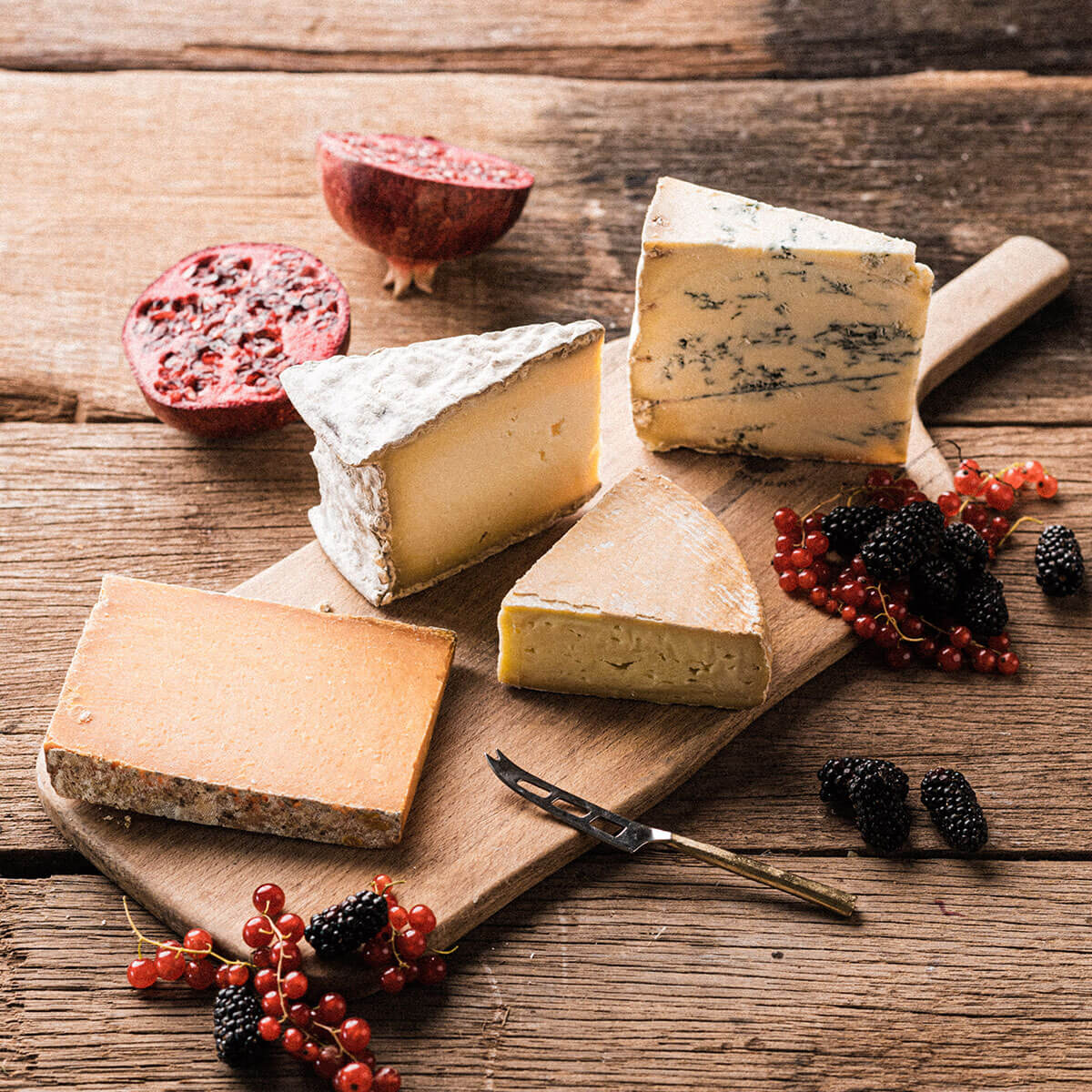 Autumn Cheese Hamper
£37.00 each
Four farmhouse cheeses tasting great right now, hand selected by our Cheesemongers.
To create the ultimate tasting board, just add some Fine Cheese Co Crackers and some Quince Paste! 

Your cheese tasting experience includes...
Gorwdd Caerphilly 
Stichelton
Durrus 
Sparkenhoe Mature 
Read Full Product Information
Durrus is made by Jeffa Gill in County Cork, Ireland, the same way its been done since 1979. Jeffa uses milk from two local farmers on the Sheep's Head Peninsular, whom she's worked with for over 25 years. It is a soft, washed rind cow's milk cheese that smells of hay whilst oozing a buttery interior that is reminiscent of caramel. Once at it's best, Durrus is best enjoyed fast, not that has the chance to hang around In our fridge before being eaten! Pasteurised Cow's Milk & Natural Rennet
Gorwydd Caerphilly (minimum 200g)
Caerphilly cheese is a mould-ripened, aged cow's milk cheese typically sold at three to four months. The style takes its name from a small town in the South of Wales. Former cheesemonger Todd Trethowan built a cheesemaking facility on his parents' land and began to make cheese with locally sourced milk. He was later joined in the business by his brother Maugan and sister-in-law Kim. With the intention of improving the quality of their cheese, and after a lengthy search for 'the best possible milk', in mid-2014 the Trethowans moved to Somerset. Partnering with a farm whose milk supply showed great potential enabled them to have more control over the raw material and as a consequence, on the final cheese. Raw Cow's Milk & Natural Rennet
Stichelton (minimum 200g)
Raw milk stilton-recipe blue cheese had been extinct for 18 years, until in 2006 when Joe Schneider and Randolph Hodgson embarked on a journey to challenge preconceptions of the traditional British blue. The special protected status of Stilton stipulates that it must be made with pasteurised milk, however the process of treating that milk removes a bounty of good microbes that give the cheese unique flavours and make it identifiable to a particular time and place. Joe uses only raw milk from the morning milking, very little starter culture and a very long make, 24 hours, allowing the natural flora in the milk to bring out the flavours. The curds are hand ladled, which gives a more delicate texture. Similar care is taken with maturing. Perhaps most importantly, each cheese is tested for ripeness before it leaves the maturing room. There can be a great deal of variation in how the cheese tastes from batch to batch, with Joe aiming for consistently of quality over consistency of flavour. Raw Cow's Milk & Natural Rennet
Sparkenhoe Mature (minimum 200g)
After 50 years of extinction, David and Jo Clarke set out to restore one of the jewels in the crown of British cheesemaking heritage. The couple use raw milk from their herd of pedigree cattle in Nuneaton, Warwickshire to craft this long, deep flavoured cheese. It is traditionally coloured with Annatto seed, a historical way of distinguishing between territorial cheeses introduced by explorers returning from the central Americas in 1700s. We receive cheeses from Jo and David with nutty, rich and long-lasting flavours. The cheeses are turned and brushed once a week for 12 months before finding their way into our counter. Raw Cow's Milk & Natural Rennet
*At times hamper contents may vary due to stock availability, but items will be replaced with products of the same or higher value and quality.
delivery
Nationwide delivery:
Wednesday & Friday £7.95 UK Standard Delivery Charge (per order)
Saturdays £9.95 UK Standard Delivery Charge (per order)
Excluding some post codes; Delivery | Darts Farm
Gift messages may be added at check-out
Collection from Darts Farm is free - choose Collection at check-out.
sustainable packaging
A

ll of our hampers are packed carefully with all products laid flat and covered in shredded paper. This is to ensure that they are equipped for transportation and arrive with you safely.
Darts Farm branded recyclable cardboard box, made in the UK
More information here: Sustainably Driven Hampers! | Darts Farm