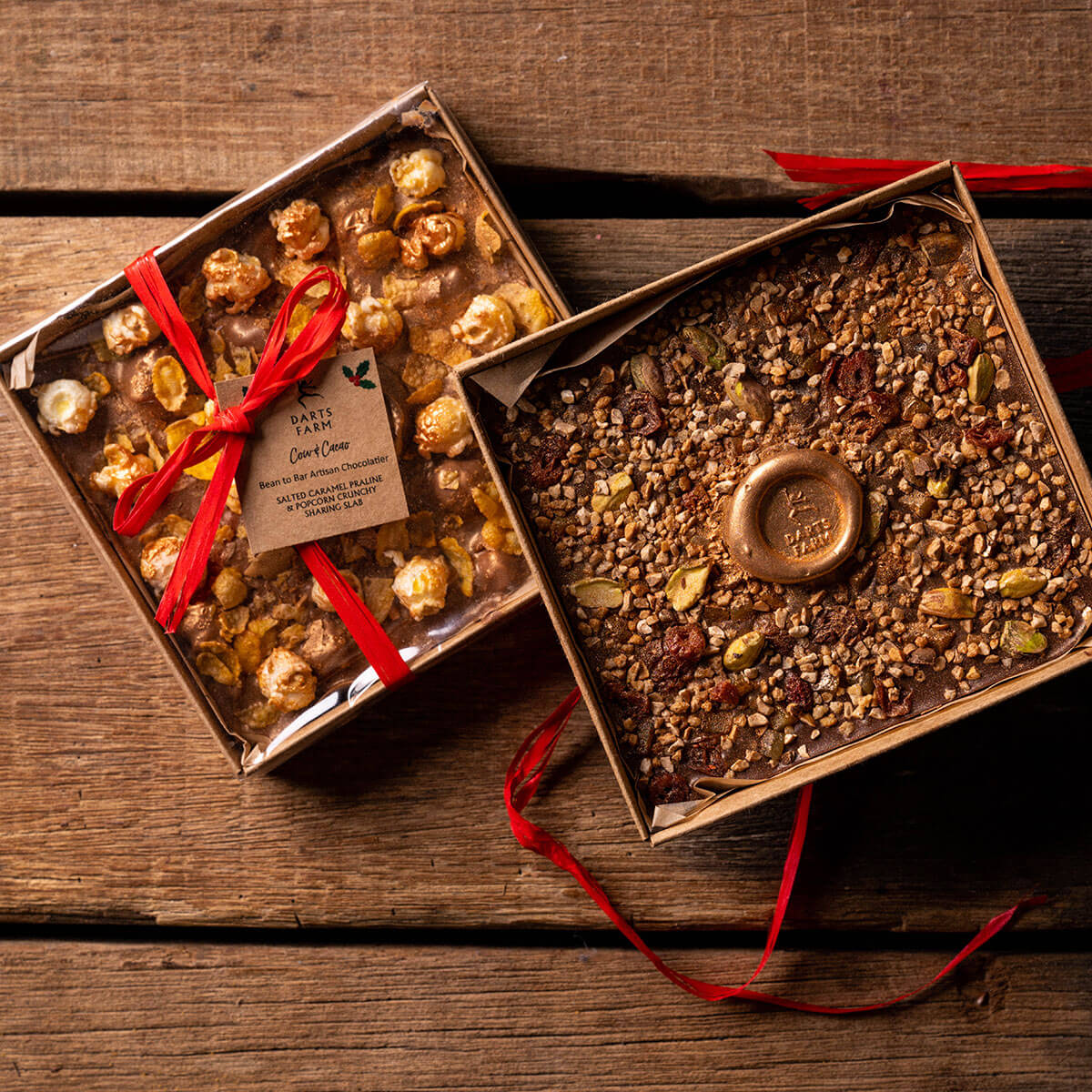 Cow & Cacao Chocolate Praline Sharing Slabs
£16.99 each
Handcrafted by our Chocolatier, Molly. These melt in the mouth Praline Sharing Slabs are the ultimate fireside treat or gift this Festive Season, sealed off with our Darts Farm chocolate stamp!

Choose between; Dark Chocolate Fruit & Nut Praline Slab or Milk Chocolate Salted Caramel Praline & Popcorn Crunchy Slab. 
*available in limited numbers 
full product information
Cow & Cacao Chocolatier
We are proud to be one of the few UK producers to craft chocolate from bean to bar. As farmers ourselves, we know that good food starts on the farm, so our priority is sourcing incredible cacao from small scale growers in rare origins around the world. We believe in chocolate that is both environmentally & economically sustainable, from forest to food hall.
Once the sacks land at Darts Farm, our lengthy six stage process begins. In small batches, Chocolatier Louise carefully roasts the beans, before cracking the shell to release the nib. We then grind the nibs in our granite mixer, the 'conche', for up to 55 hours before aging our chocolate in 5kg bricks for 2-3 weeks. Finally, we melt it down to create bars, truffles & all things chocolate!
delivery
Nationwide delivery:
Wednesday & Friday £7.95 UK Standard Delivery Charge (per order)
Excluding some post codes; Delivery | Darts Farm
Gift messages may be added at check-out
Collection from Darts Farm is free - choose Collection at check-out.